Doomfist May Finally Be On The Way To Overwatch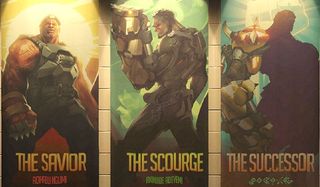 It's looking more and more like Blizzard is gearing up to finally bring Doomfist to the Overwatch roster as a playable character. While nothing official has been announced, the team has recently added a nice bit of backstory to the game's blog that gives us plenty of reason to believe the gauntlet-wearing badass is about to join the fray.
Over on the Overwatch blog, a new "news post" has gone live highlighting some recent events at a Helix Security International maximum security prison. It's written as a straight news story from Numbani, penned by a Times of Numbani staff member.
The story offers more details about an event that happened three months ago, in which the inmate Akande Ogundimu was liberated from captivity by none other than Reaper. Folks who play the game will recognize Ogundimu as the most recent Doomfist.
If you're new to the game and that's a bit confusing, Doomfist is more of a title than a single entity, passed on to (so far) three individuals who have claimed the power of a very special gauntlet. One was seen as The Savior, the next was The Scourge and Ogundimu is currently being called The Successor. In other words, they've built into the lore that the Doomfist can be a force of good and evil and, at present, the exact nature of The Successor has not been determined. Folks seem to think he's a bad guy, but we have a feeling his character is a bit more complex than that.
Anyway, the story goes on to outline the fact that Overwatch goth-boy Reaper killed twelve dudes in order to break Ogundimu out on behalf of the villainous group, Talon. That's important because, a while later, it's reported that Ogundimu retrieved his titular gauntlet while only bashing some robotic security. The lack of human casualties seems to add more weight to the idea that Doomfist is, if nothing else, conflicted about wanton destruction.
There is, of course, no other information provided at this time. Blizzard posted the story and it's up to the fans to speculate what comes next. Obviously, we figure what comes next is the arrival of Doomfist in Overwatch. We would be able to confirm this further if anyone could give us a detailed itinerary of what Terry Crews has been up to recently. The famous actor went so far as to do a mock audition for the character because of his love for the game and desire to voice Doomfist. We understand that things might not work out that way, but wouldn't it be rad if Blizzard just decided to let this fanfiction keep writing itself and brought Crews in on the project?
Of course, that's 100 percent speculation at this point. All we have right now is an in-game news post that seems to point to the arrival of Doomfist as a playable hero, but we'll just have to wait and see what Blizzard does next.
Staff Writer for CinemaBlend.
Your Daily Blend of Entertainment News
Thank you for signing up to CinemaBlend. You will receive a verification email shortly.
There was a problem. Please refresh the page and try again.