Terry Crews Just Got Some A-List Support In His Overwatch Campaign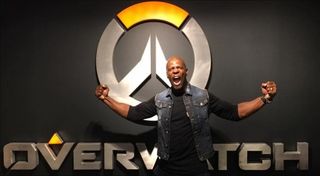 (Image credit: Terry Crews)
Blizzard's Overwatch has become such a huge phenomenon that there are now actors lobbying to be in their game. Terry Crews is one such actor, hoping at some point he can voice the character of Doomfist. Well, one of the biggest names in Hollywood has endorsed Crews for the role and you'll never guess who it is.
That's right... The Rock! Dwayne Johnson made a post on his Twitter account endorsing Terry Crews to become the one and only Doomfist.
The tweet sent shock waves through the gaming community, with plenty of people asking The Rock if he's an avid player of Overwatch. I'm willing to bet the answer is "no" just because he's a pretty busy guy and I doubt he has time to dabble in games all that much. But despite Dwayne "The Rock" Johnson's silence on whether or not he plays Overwatch, it didn't stop his followers from crafting all sorts of crazy suggestions on who he might play or who he should play. The Twitter feed is pretty funny with some of the gifs and memes posted up about the news.
This celebrity endorsement comes after Terry Crews originally announced around two weeks ago that he would love to voice a character in Overwatch. He lobbied hard for the role of Doomfist, and even went and visited the team at Blizzard Entertainment at their official studios.
There's only one problem with the lobbying: there is no Doomfist character.
For now it's all theories and speculation, and the Overwatch community has been fervently diving deep into every nook and cranny of the game's lore, maps, character backgrounds and patches to dig up any kind of tidbits of information or scraps of info that they can. Blizzard has been mum about any new characters other than that they are working on new characters for the game.
Does this mean that Doomfist is a shoo-in for Overwatch? Not at all. We have no idea if he's actually even going to be a character! Right now there's just a lot of hype being built around Terry Crews wanting to voice the character, and even more hype generated after he visited the Blizzard development studios. No announcements have been made since then. However, with The Rock joining in on the fracas it's looking like there's some serious momentum being put into a character that seems to be gaining traction and prestige through the very will of the community.
If there's enough momentum, though, I'm sure Blizzard will likely have to acknowledge Doomfist and Terry Crews at some point. If this really does turn into an actual playable character, then Crews deserves a standing ovation for being able to gather up support from the Overwatch community and turn that positivity and lobbying into an actual thing.
For now, though, this whole Doomfist thing is just a grassroots campaign from a Hollywood actor who seems to love the universe that Blizzard has created and is looking to find his way into the bosom of the community as this new character.
Your Daily Blend of Entertainment News
Staff Writer at CinemaBlend.
Your Daily Blend of Entertainment News
Thank you for signing up to CinemaBlend. You will receive a verification email shortly.
There was a problem. Please refresh the page and try again.