Will We Ever Get A Tales From The Borderlands Season 2? Here's What Telltale Says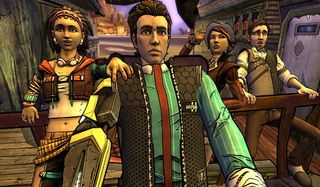 It feels like Telltale Games is announcing a new project every other month these days and, along with some new universes to explore, fans are clamoring for the developer to return to some older favorites. The team recently fielded a question pertaining to the future of Tales from the Borderlands, and it doesn't sound like they're exactly closing the door on that particular series just yet.
Over on Reddit, Telltale Games recently hosed an ask me anything thread. They're the team responsible for the award-winning The Walking Dead adventure game series and, based on the page's advertisements, it looks like they were hosting this event in honor of the new season of Fear the Walking Dead on AMC.
Reddit user JobJStauffer admitted that their question was not targeted at the Walking Dead series, but they wanted to take advantage of the opportunity to set the record straight about Tales from the Borderlands, another beloved Telltale series set in the Borderlands universe that many are clamoring for a sequel to. In brief, the Telltale squad said it isn't a project they would say no to. The began by saying that the series was a lot of fun to work on the first time around, then added the following:
Telltale is making it sound like the Tales crew could pop up in a new Borderlands game from Gearbox or a new adventure from Telltale. Honestly, we'd be totally fine with either. Both are great series and pretty-damn-funny, so we'd like to revisit the gang no matter where they might pop up next.
So while no sequel to TFTB has been confirmed, that doesn't mean there isn't one coming. We're not sure when Telltale will be able to squeeze it in, though. They've got a lot of plates spinning these days, including games in the Batman, Game of Thrones and Minecraft universes. They've also got the 53rd season of Walking Dead coming, as well as the highly-anticipated second season of The Wolf Among Us. Still, if Gearbox and 2K are willing to get the ball rolling, it sounds like Telltale would jump at the chance.
Is that a series you would want the developer to get in the lineup soon? If not, what series do you want to see more out of from Telltale in the coming years? Let us know in the comments below.
Staff Writer for CinemaBlend.