How Terry Crews Really Feels About Not Voicing Doomfist In Overwatch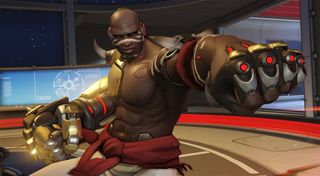 (Image credit: Blizzard Entertainment)
One of the reasons Doomfist managed to gain so much attention and popularity in the world of gaming leading up to his official announcement and reveal was because of veteran Hollywood actor Terry Crews. The actor recently revealed how he felt about not actually voicing the character in Overwatch.
Speaking with PC Gamer, Terry Crews talked about a number of different subjects, from getting into building a PC to his lobbying to play the role of Doomfist in Blizzard Entertainment's Overwatch. When asked about how he felt about Blizzard going with a different actor to voice the iconic gauntlet-wielding super villain, Crews explained that he didn't intend to take over the game or overshadow its popularity with his lobbying...
He explained that it's all good and that he's still friends with Blizzard. He also revealed that while Overwatch used to be his favorite game, he and his son have been playing Playerunknown's Battlegrounds, which is a Battle Royale-style multiplayer survival game that sees players attempting to survive against a bunch of other people while scavenging for material and attempting to avoid the deadly barrier that shrinks around the arena. It's pretty much like the movie The Condemned or The Hunger Games.
Crews and his son have been playing Playerunknown's Battlegrounds on their newly built high-end gaming rig, something that they did together. And even though Crews really wanted to voice Doomfist in Overwatch, he feels as if he and Blizzard could do something special in the future, and when they do, it'll be perfect, but he's definitely not upset about someone else stepping into the role and becoming the feared villain, telling PC Gamer...
But it's not all doom and gloom. The former NFL linebacker and Hollywood actor already had another gig lined up... one where he gets to have a far more prominent role in the game: Crackdown 3.
Terry Crews revealed that he's actually a playable character in the upcoming game and that he isn't just voicing one of the characters, you will actually get to play as him!
He mentioned to PC Gamer that it was a lot of fun being able to step into the role of a character and that by comparison he was glad he landed the Crackdown 3 gig because, unlike with Doomfist, he was 3D scanned into the upcoming Xbox title so it's both his voice and likeness. This was revealed back during E3, but Crews mentions he'll be doing the press rounds starting with a Comic-Con panel this year.
Staff Writer at CinemaBlend.