Grand Theft Auto 6 Accidentally Confirmed By Motion Capture Performer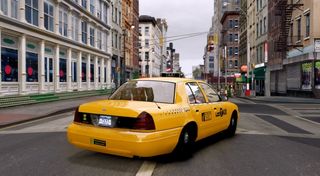 (Image credit: Rockstar Games)
Everyone has been clamoring for more details and news about Grand Theft Auto 6, even to the degree of fake videos and news circulating about the unannounced game. Well, some news has surfaced that GTA 6 is in development, thanks to an accidental leap by a mo-cap performer.
IGN is reporting that originally a listing on Breakdown Express showed Tim Neff as having done work on Grand Theft Auto 6. The listing also shows that Neff has done work on Red Dead Redemption 2, Reborn and Mercenary Insurance.
The listing was originally spotted by NeoGaf as they were browsing through the website. According to an update from IGN, PCGamesN got in contact with Neff, who stated that the resume is fake and that he doesn't even use Breakdown Express.
What's odd, however, is that -- as pointed out by the sleuths at NeoGaf -- the resume was updated following PCGamesN contacting Neff about it. While he states that it's a fake, the entries were changed to Red Dead Redemption 1 and Grand Theft Auto 5.
However, if you check the resume on Breakdown Express, it's completely emptied of any content now. If it were fake, most people questioned why the fake account maker would go through the trouble of scrubbing the info?
NeoGaf also spotted an Instagram post from Neff from earlier in the year where he was visiting the Rockstar San Diego offices. The Instagram post is now deleted.
Some people believe it was all an elaborate hoax. Others believe that Neff may have prematurely posted the details about his work on GTA 6 ahead of schedule and got a phone call from Rockstar Games (or the more litigious Take-Two Interactive) and told to remove the details pronto. It seems odd someone would create a biography for Tim Neff on a site like Breakdown Express just to troll people. The more elaborate troll would have been to create the account on LinkedIn or modify the IMDB page. Most news outlets aren't going to check random resume profiles of mo-cap workers on small, niche career building websites.
Then again, maybe it was all a ruse by a troll who decided to take things to the next level. Meta-trolling.
Occam's razor would lead us to believe that it was just Neff making a mistake and listing GTA 6 ahead of time on his resume, as opposed to someone going through the nitty gritty of collecting info on Neff, setting up a profile, and attempting to troll by leaving it available for someone, somewhere to find it like NeoGaf did.
But, given the popularity of Rockstar's games, it's not surprising if someone did go through the task of collecting Neff's photos, intricately building up his resume on Breakdown Express and then leaving it there with entries for Red Dead Redemption 2 and Grand Theft Auto 6 just to mess with people.
For now, most people believe that GTA 6 is in development and they're of the mind that Neff and Rockstar are on damage control. Others think it was all just a big nothing burger, and have decided to return to playing GTA Online.
Your Daily Blend of Entertainment News
Staff Writer at CinemaBlend.