Here's What Professional Overwatch Players Will Earn In Season 1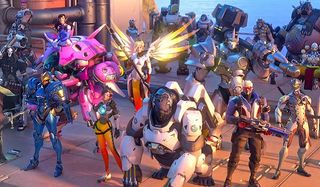 With the first season of the Overwatch League set to kick off later this year, Blizzard has been finalizing all of the fine details of operations. They recently set up guidelines for player pay, and it looks like folks who make it onto a team are going to be compensated nicely, with $50,000 being the absolute base.
Compared to what professional athletes make in other sports, that $50,000 for playing Overwatch on the world stage might not sound like a heck of a lot, but it's certainly a nice starting point. It's also important to remember it is exactly that: A starting point.
As Gamespot is reporting, the $50,000 line is the absolute least a player can be signed on for to play for one of the professional teams. Players can be signed on for a one-year contract at the start, with a signing window running from Aug. 1 to Oct. 30.
While a player could certainly be signed on for a higher salary (that's up to the individual teams to negotiate), players also receive the added bonus of health insurance, a retirement plan, housing for the season and at least 50 percent of the prize pool winnings spread among members of the team. Without knowing prize pools and how all of the particulars will shake out by the time the season gets rolling, we imagine that means even the lowest paid player for the least successful team will be receiving, all told, a package worth a few hundred thousand dollars without bonuses.
As for those season one bonuses, they're set up in the amount of $3.5 million. At least $1 million of that figure will go to the season one champion team with the rest being distributed however the league sees fit. We're also not positive on whether the bonuses are awarded directly to the players or if, like the prize pools, they will be split with the team owners. Either way, again, once you take everything into account, these professional Overwatch players will be making a very pretty penny. That being the case, we think parents the world over no longer have a single good reason to argue "those video games will take you nowhere in life."
Still, much like with every other professional sport, spots on pro teams are going to be coveted. On top of that, there are only seven teams on the Overwatch League roster right now. Blizzard has confirmed that teams may have between six and 12 players on the payroll, which means there will only be about 100 professional Overwatch players at the start. And in case you were curious, there is no region locking when it comes to forming teams, so a roster member can come from literally anywhere.
So what do you think, folks? Is Overwatch League shaping up to be the real deal? Give us your thoughts in the comments below.
Staff Writer for CinemaBlend.
Your Daily Blend of Entertainment News
Thank you for signing up to CinemaBlend. You will receive a verification email shortly.
There was a problem. Please refresh the page and try again.