Here's What's New In ReCore's Definitive Edition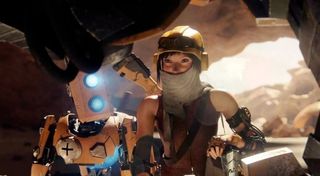 (Image credit: Microsoft)
Microsoft, Comcept and Armature Studio's ReCore seemed to launch and then quickly fade away after it hit the market back in September of 2016. The game originally launched for the Xbox One and PC, and now the game is set to receive a definitive edition for all of those who missed out on the game's original release.
According to Polygon, ReCore: Definitive Edition is set to launch on August 29th and it will come with a brand new chapter called "Eye of Obsidian". This is a brand new chapter in the game's main story mode, where players will be able to explore one of the unexplored areas in the region of Eden.
The brand new chapter is accompanied by two all new overworlds for players to explore, along with 10 brand new dungeons to conquer. There's also a new region where players must survive through a sandstorm while facing off against all new enemies.
In order to fight against the enemies across the expanded game world, Comcept and Armature have taken time to add in new travel nodes so that players will be able to stash their goods and make configurations at the waypoint for their robot companion. The nodes work very similar to those in NieR: Automata, where players could make minor adjustments or warp to different locations across the game world.
An all new T8-NK Corebot will also be present that players will be able to utilize, along with additional Prismatic Cores, and other gameplay enhancements to add an extra coat of spit-shine and polish to the gameplay experience. The article also notes that ReCore: Definitive Edition will feature additional bug fixes and performance improvements that plagued the original game during its launch last year.
The game came out with a lot of middling review scores, mostly due to the fact that the game was poorly balanced between platforming, action-oriented gameplay and puzzle solving. A lot of people praised the core concept but the game didn't quite hit it off by keeping gamers interested and entertained throughout its entire play-length.
It's possible that some of the gameplay balance in ReCore's re-release could be addressed to make the game feel more fluid and fun, instead of grindy and tedious.
There was a lot of excitement heading into the original release of the game following the 2015 debut during Microsoft's E3 press conference for the Xbox One. The charming and character-driven cinematic made the game seem like some sort of futuristic, action-adventure game that you might find coming out of Pixar Studios. However, the final game was not quite as engaging or as enthralling as the E3 cinematic.
With the game re-releasing on PC and Xbox One, there's now a possibility of reaching a broader audience and luring back in some of the older gamers who may have given up on the title back when it first released last year.
If the ReCore: Definitive Edition outing is solid enough, maybe it could end up becoming a brand Microsoft could get behind and maybe a sequel could be in the works thereafter.
Staff Writer at CinemaBlend.
Your Daily Blend of Entertainment News
Thank you for signing up to CinemaBlend. You will receive a verification email shortly.
There was a problem. Please refresh the page and try again.