Square Enix Is Working on Something New For Nier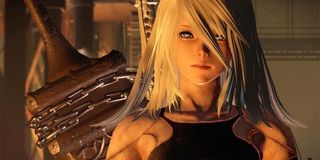 (Image credit: Square Enix)
One of the breakout hits earlier this year for PS4 and PC was Platinum Games and Square Enix's Nier: Automata. The philosophically charged action-RPG really turned heads (for more than one reason), and now it seems as if Square isn't done with the series and may have something new in store for Nier.
Siliconera is reporting that there's a new staff page that has been posted by Square Enix where they list positions for scenario producers who can work on NPC behavior, dialogue, and creating sub-quests and plots. The position very clearly notes that it's for work on the Nier series.
The rest of the page goes through the benefits, work location, and the experience that's required to take on the position.
Siliconera further reports that both creative director Yoko Taro and producer Yosuke Saito offered a message about the recruitment post on the Square Enix page, and Taro, in typical fashion, makes a joke out of the whole thing with a bit of self-deprecation. He explains in his message that he's at his limit and that he can't do everything on his own due to being lazy. He also assuages fans' fears about the hiring of the new recruit, noting that they will just "talk a little bit" about being worried together.
Saito-san reiterates parts of Taro's message, saying that for the next Nier project the team will need to grow a little bit to help out Taro with the writing of quests and missions. He also jokes about whether or not the last outing of Nier: Automata was a one hit wonder or if people actually crave more from the world. He concludes that people actually want more from the Nier world and so they will continue work on the game.
What they don't explain is if this is a new game or a new DLC expansion pack. As we've seen with games like Final Fantasy XV, Square is still supporting that game with all new content an entire year after release. So, is it possible that Platinum and Square could be working on a brand new expansion for Nier: Automata? It seems a bit unlikely given the way the game ended and how the story wrapped itself up nice and neat. That's not to mention that there's no way they could improve on the characterizations of 2B, 9S and A9. At this point it definitely seems to make a lot more sense for it to be a brand new game or spin-off of some sort.
Platinum and Square managed to garner a lot of positive praise and lauded feedback from the community for Nier: Automata, so maybe the studio will continue to move in that direction with the next game?
There's really no telling, given that Nier: Automata was quite different from the previous titles in the series, including Nier: Replicant and the previous Drakengard games before it. There's also a ton of lore and possible story avenues to cover in the series. It's a little like the Japanese offspring of Star Wars and Blade Runner.
Of course, if the studio is just now hiring then it means that whatever project is being worked on is a long ways off from release.
Your Daily Blend of Entertainment News
Staff Writer at CinemaBlend.