Check Out Harley Quinn In Telltale's Batman Game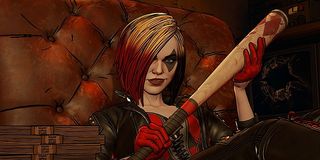 The legendary Harley Quinn will be making her way into the next chapter of Telltale Games' ongoing Batman series, and this slightly new take on the character has been revealed in a short gameplay section introducing her to Gotham's most eligible bachelor, Bruce Wayne.
Telltale's Batman: The Enemy Within is gearing up to dive into its second chapter, in which the beloved clown princess of Gothem, Harley Quinn, finally makes her debut. IGN provided the clip, which comes in at a little under three minutes. What's great about this particular scene is it actually gives you a good idea of the direction this Harley is going within a short period of time.
As you can see from the design, Telltale wanted to put its own spin on the character. She's got shorter hair with a totally different style than her usual pigtails, but she's still sporting a splash of red and black. Her face makeup includes a pair of black diamonds painted around her eyes and crimson lipstick. As for the outfit, it's got similar red and black designs with a leather jacket over the top. Oh, and then she's wearing these weird half-gloves that send me into something of a panic. I wanted to yell at the screen, "That can't be comfortable!"
As for Harley's mannerisms, she still comes off as ever-so-slightly contained madness. She seems like she might do anything at any moment, which is perfect. However, while she still has a high voice and even drops a "puddin'" in there for good measure, this version of the character sounds a little less like a cartoon.
The scene begins with John, AKA the Joker, wanting to introduce Bruce to a woman he's fallen in love with. Before you know it, said woman is holding a gun to Bruce's head, all for a laugh. We're looking forward to seeing how the rest of this scene plays out.
And in case you needed a reminder, this clip comes at the perfect time. Not only is it Batman Day, but this year's celebration of the festivities mark the 25th anniversary of the introduction of Harley Quinn. She first came onto the scene during the animated series and, thanks to movies like Suicide Squad, games like this and Injustice, and comics aplenty, she's still kicking ass and taking names all these years later.
So, readers, what do you think of the new Harley? Were you hoping for something a bit more spastic, or does this more calm and collected version of the character seem like a good direction? Let us know your thoughts in the comments below.
Your Daily Blend of Entertainment News
Staff Writer for CinemaBlend.