How WWE 2K18's Road To Glory Is An Improvement Over Showcase Mode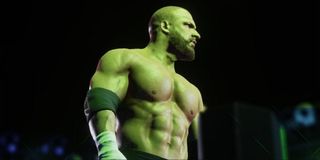 (Image credit: 2K Games)
This year's WWE 2K outing won't have the Showcase Mode that was oh-so-popular in the last couple of outings of the game. In previous years gamers had to complete the objectives in the Showcase Mode, but this year 2K decided to switch it up with the Road To Glory feature, which will still give gamers objectives to complete with daily events.
In an interview with Gamespot, creative director Lynell Jinks explained how this year's Road To Glory feature would trump the previous outings of Showcase Mode, saying...
Jinks also explains that there are some interesting new mechanics in WWE 2K18's newly revamped career mode when going down the Road To Glory. For instance, players will have to earn their way into a spot on a pay-per-view card. It's no longer just handed to you.
In order to make this possible, the team designed the Road To Glory to have players complete very specific objectives and events before being eligible to make the step onto the pay-per-view card. This is all handled through the daily events that 2K will be updating throughout the entire year of WWE 2K18 being on the market, so that players will have fresh challenges to complete in order to stay relevant in the superstar scene.
Previously, the Showcase mode had players going through specific events, playing as certain superstars in order to complete certain tasks and progress through the mode. This time the developers decided to include the progressive narrative into the MyCareer mode and intertwine it with the way players advance through the ranks.
One of the other major changes is that narratives now branch from interactions that take place backstage. So even if you're not into the daily events and challenges that 2K will present, you can still stay engaged in a compelling storyline in WWE 2K18 by interacting with superstars backstage where you can form new friendships and rivalries.
The backstage areas will also play a pretty big part in how relationships develop and how stories will unfold, similar to the old Smackdown: Here Comes the Pain and some of the Smackdown vs Raw outings.
Of course, if you're playing as your own custom superstar it can be a drag when you realize that your character looks like El Generico. So 2K decided to go back to the drawing board and revamp the facial features so that player characters can look a lot more distinctive, including even being able to remove your character's teeth so they can imitate Mick Foley's classic look.
Some fans may still be disappointed in the fact that Showcase mode was first prominently featured in WWE 2K and then was relegated to DLC, and then removed altogether. We'll see if the new Road to Glory feature and the daily events in WWE 2K18 will be an adequate replacement when the game launches on October 17th for the Xbox One, PS4, and PC, and later in the fall for the Nintendo Switch.
Your Daily Blend of Entertainment News
Staff Writer at CinemaBlend.