Here's Everything You Need To Know About WWE 2K17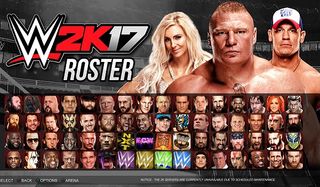 Set to launch on Oct. 11, there's still a bit of waiting time between now and when wrestling fans can get their hands on WWE 2K17. Thankfully, that hasn't stopped 2K from rolling out fresh details on the game, including a nice, long look at what features will come packed on this year's iteration of the series.
To be clear, 2K has stated that these are not the "full details" for WWE 2K17, with more information planned to be revealed between now and that Oct. 11 launch date for PlayStation 4, PlayStation 3, Xbox 360 and Xbox One. For now, though, this should give you a good idea of what to expect.
The two major options sure to please fans are the Universe and MyCareer modes.
For those new to the series, WWE Universe Mode is a sort of gamified take on the weekly antics you might catch while watching an episode of Raw, SmackDown or NXT. This year's WWE game will feature a new "Show Presentation" system, made to make players feel like they are plowing through the weekly scheduling rotation. Unlike standard matches, this mode offers all of the drama and rivalries you see on TV, along with the possibility of run-ins, attacks before and after matches and more. Also new to this year's WWE Universe mode in 2K17 are promos. The game actually incorporates a "Promo Engine," creating the kinds of events and banter you'd see between weekly bouts. According to the official announcement, the team feels this is the "most comprehensive and authentic" version of the Universe mode created to date.
Over to the MyCareer mode, everyone should have a pretty good idea of what to expect at this point. In WWE 2K17, you'll be able to create your own grappler, then control them as they rise through the ranks. Outside of wrestling, you'll have to make choices, answer questions in interviews and deal with building rivalries as unexpected events pop up around every corner. For WWE 2K17, players will eventually cross paths with Brock Lesnar and his advocate, Paul Heyman. How you handle this interaction will apparently have a big impact on your history as a WWE fighter.
The final big reveal from 2K's latest batch of details is that the 2K Showcase has been removed from WWE 2K17. In short, creating the Showcase option for this year's game would have meant forfeiting many wrestlers who are not available for inclusion. Another big factor was the fact that, rather than put effort into a mode that can only be enjoyed on a game by game basis, the team decided to instead focus its attention on the core modes and mechanics, areas that will continue to evolve and benefit WWE 2K games for years to come.
So that's all the dirt we have on WWE 2K17, including some beefed up fan favorite modes and the loss of one. Let us know your thoughts in the comments below.
Your Daily Blend of Entertainment News
Staff Writer for CinemaBlend.