Everything You Need To Know About WWE 2K18's Career Mode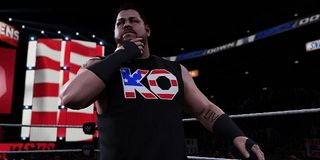 When WWE 2K18 finally drops, many players will likely dive straight into the game's new campaign mode in order to create their own superstar and then guide them through the ups and downs of a career in professional wrestling. New details for "MyCAREER" have surfaced, and it's shaping up to be a pretty robust offering.
Over on the WWE2K18 blog, the folks at 2K have pulled back the curtain on the game's campaign, called MyCAREER. We're not sure why they chose to write it that way, but at least everything but the name seems to be moving in a positive direction.
According to the announcement, the team set out to craft a mode that is geared toward "enabling our fans to live out their dreams as WWE Superstars." This iteration of the mode has been heavily influenced by fan feedback, specifically in the areas of exploration and plot. Apparently fans wanted the ability to freely roam backstage between bouts, so that's been added. Also receiving a boost is the campaign, which 2K said has once again been designed to tell "a compelling story." Here's the information that's been revealed:
Multiple paths
To reach that goal, the devs have created two paths for the player to follow; you can either be the "Company Man" or the "Fan Favorite." If you're a Company Man, you'll be more focused on helping the general managers get the most they can out of each event. You'll chat with the GMs backstage in order to help craft the lineup, you'll be called on to ambush other wrestlers mid-match and take part in other activities specifically targeted at making the show as entertaining as possible. If you're more of a Fan Favorite wrestler, you won't be as concerned about the ins and outs of the entire program. Instead, you're focused primarily on being the best superstar you can be, doing whatever it takes to enhance your own bouts and promos. No matter which path you choose, 2K said to expect plenty of twists and turns along the way.
Backstage
A big part of wrestling is the content that doesn't actually take place in front of the camera. In the new MyCAREER mode, you'll have plenty of time to roam the halls backstage in order to chat up the other wrestlers, as well as the company personnel that make each show possible. If you want to do an interview, simply go up to Renee Young and start answering some questions. Want to create a new rival? Wait for them to get in front of a camera and ambush them.
Promos
Promos are a big part of wrestling, so they're getting more meat on their bones in WWE 2K18. New animations and dialogue have been added, and the scoring system has been reworked so that players don't feel as restricted while trying to earn as much heat as possible. You'll now be scored higher for creating clever combos of responses rather than trying to pick out the best "good guy" or "bad guy" response.
Invasions
Not so much a hostile takeover as a friendly visit. If you've got friends playing WWE 2K18, then their grapplers will start showing up in your world. Not only will they be in the lineup, but you'll also run into them backstage. From there, you can take side quests from them, ask them to be your tag partner or, yep, even ambush them.
Your Daily Blend of Entertainment News
Staff Writer for CinemaBlend.