What You Need To Play Destiny 2 On PC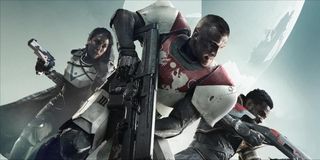 (Image credit: Bungie)
The PC release of Destiny 2 is fast approaching for those of you who have the Battle.net client. After launching last month for the Xbox One and PlayStation 4, Bungie is gearing up for release on PC by unleashing the specification details on what you'll need in order to run the game properly.
Over on the official Bungie website, the developers detailed the minimum and recommended specs for Destiny 2. There have been some slight tweaks from when the PC version had its beta specs made public.
For the minimum requirements you'll need a at least an Intel Core i3 processor at 3.5GHz or an Intel Pentium G4560 at 3.5GHz. If you have an AMD chipset, you'll need at least an FX-4350 or higher clocked at 4.2GHz. For a graphics card, you'll need an Nvidia GTX 660 with 2GB or VRAM or higher or a GTX 1050 with 2GB of VRAM. Alternatively, if you're running an AMD GPU, you'll need a Radeon HD 7850 or higher with 2GB of VRAM. And you'll need 6GB of system RAM in total.
The recommended specs scale much higher, requiring an Intel Core i5 clocked at 3.4GHz or an Intel i5 7400 clocked at 3.5GHz. On the AMD side, you'll need a Ryzen R5 at 3.6GHz. For the GPU you'll need a GTX 970 with 4GB of VRAM or a GTX 1060 with 6GB of VRAM. Alternatively, an AMD r9 390 with 8GB will suffice when running the game on the highest settings. You'll also need 8GB of system RAM.
Bungie recommends at least a 64-bit version of Windows 7 or higher, but Windows 10 is the recommend OS for the game.
You'll also need a massive amount of hard drive space if you want to play Destiny 2. How much space exactly? Try 68GB on for size. Yes, it's 8GB more than the PC version of Grand Theft Auto V.
Oddly, Bungie doesn't detail exactly what sort of performance you can expect from the final specifications. One of the things that some developers have been doing lately is outlining what the specs equate to in terms of game performance. For instance, Ubisoft's specs for Assassin's Creed: Origins outlined that the minimum specs would net you full playability at a resolution of 720p and a frame-rate of 30 frames-per-second on the minimum graphics settings. The recommended specs would net you full playability at 4K and 30fps or 4K and unlocked frame-rates.
We did previously learn that PC gamers would be able to play Destiny 2 at unlocked frame-rates, unlike the PS4 and Xbox One, which are both capped at 30fps. Some Xbox One X potential buyers were also a little disgruntled that the system wouldn't allow for 4K at 60fps like the PC version, but that's some of the limitations you run into with console gaming.
PC gamers will also receive the game just in time for the launch of the Prestige Raid, which will go live on October 18th, just ahead of the October 24th release of the PC version of Destiny 2.
Your Daily Blend of Entertainment News
Staff Writer at CinemaBlend.