Fortnite Adds Halloween Content, Lots More In New Patch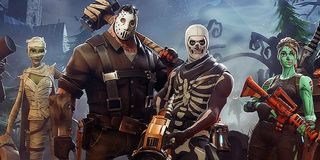 The latest patch for Fortnite launched this week, introducing a whole bunch of new content into both the PVE and PVP game modes. There are plenty of Halloween-themed treats, as well as the addition of some highly requested features.
Over on the Fortnite blog, the folks at Epic have highlighted the many changes and additional content that was recently plugged into the game. This includes a new location to defend in the PVE mode, some Halloween costumes and gear, as well as a whole bunch of functionality to enhance the PVP experience.
Fortnite, which is still technically in early access, is quickly evolving into a rather compelling package. The core game mode, called "Save the World," has players gathering supplies in order to build forts with the intent of keeping out the walking dead. On top of traps, players have plenty of firepower to fall back on.
The PVP mode, on the other hand, is the latest challenger to step into a ring previously dominated by Playerunknown's Battlegrounds. Called "Battle Royale," this mode drops 100 players onto a map to grab gear, build defenses and try to be the last player standing in a combat zone that is ever shrinking.
The confusing part is that Battle Royale is available to all comers right now, while you still need to purchase one of several early adopter's packs to play Save the World; a game mode that will eventually go free-to-play when the game fully launches.
No matter what mode you're playing, though, the most recent update to Fortnite offers a little something for everyone. It's being called the "Fortnitemares update," and it's the biggest bundle of content to be plugged into the game yet.
There's a huge list of changes in the full patch notes, but we'll call out some of the most noteworthy changes here.
Both modes now support all sorts of Halloween costumes, including mummies, zombies and skeletons. The rocket launcher also has a seasonal skin that makes it launch pumpkin bombs.
In Save the World, a brand new map has been introduced that looks like a gothic castle. That comes packed with some new baddies to face, missions to tackle and a bunch of other nice bells and whistles.
Battle Royale, on the other hand, is getting a lot of basic functionality seen in other games that simply hadn't been developed yet. These include leaderboards, a seasonal progression system, an in-game store that's admittedly limited right now, some light character customization, etc. Some of the in-game effects, like the environment players see when they get stuck on the outside of the encroaching storm, have also been changes.
Two of the biggest additions, though, include the ability to pick up resources by simply walking over them, as well as a new item with the unfortunate name "Slurp Juice," which boosts both health and shields by one point per second for 25 seconds.
Epic has stated in the past that they planned on fleshing out Fortnite quite a bit and, after this update, it's clear they plan on doing exactly that.
Your Daily Blend of Entertainment News
Staff Writer for CinemaBlend.
Your Daily Blend of Entertainment News
Thank you for signing up to CinemaBlend. You will receive a verification email shortly.
There was a problem. Please refresh the page and try again.