Epic Games Releases Unreal Engine 4 For Free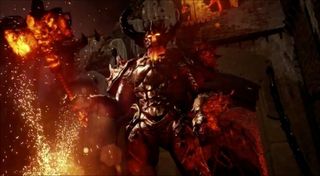 Epic Games took the next big leap into the realm of breaking down barriers and opening up the bridge between dreaming up a cool game and making that cool game. How did they break down the barrier? By removing the financial hurdles for small outlets, starting studios and indie devs to get over. That's right, Unreal Engine 4 is free. They even released a quick minute-long video from Epic Games founder Tim Sweeney, walking viewers through a quick promo of the benefits of taking hold of the Unreal Engine 4 and utilizing it to the utmost benefit of their creative endeavors. Check it out below.
The latest build of the Unreal Engine 4 is up and available, for free, for developers, enthusiasts, creators and artists alike.
There's nothing stopping anyone from grabbing a digital copy of the design tool and bringing to life whatever wacky, wild, interesting, unique or entertaining idea they have swimming around in their noggin.
Is there a catch? Well, only if you decide to sell the project that you create. As noted on the Unreal Engine blog...
This is a pretty big deal. It basically grants free reign for developers to really push the boundaries on their ideas and creativity without having to worry about paying royalties just for having access to the tools and software.
This also means that indie devs who work on their projects part-time can slowly work on their title without worrying about paying for the upkeep of the engine license. That's got to be a huge burden lifted off the shoulders of developers.
Now for designers and enthusiasts who have been putting money into the coffers of Epic Games for the subscription fee, they have a solution now that they've gone free-to-use, writing on the blog...
Does this mean could see more Gears of War, Trine or Unreal Tournament style games? Possibly. The sky really is the limit in this case, especially with all the easy-to-access utilities, scripting tools and that amazing Blue Print feature provided in the Unreal Engine 4.
Right now I'm sure the UE4 is looking real good and tasty to most indie devs who might find themselves struggling between the Unreal Engine and the Unity 3D engine. I guess we'll find out if John Riccitiello and the rest of the Unity Technologies team will have an answer for Epic's new free-to-use announcement.
Your Daily Blend of Entertainment News
Staff Writer at CinemaBlend.
Your Daily Blend of Entertainment News
Thank you for signing up to CinemaBlend. You will receive a verification email shortly.
There was a problem. Please refresh the page and try again.