Epic Games Launches Swag Store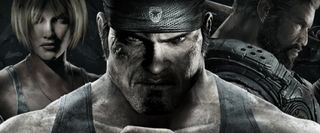 If you've become a fanboy of Epic Games over the years and have appreciated the brands they've established (and are establishing) then you'll probably find it kind of cool that the design studio has opened up their own online swag store, featuring cool digs like t-shirts, artwork and even a mug so people like Geoff Keighley will have a sexy cup in which to pour his Mountain Dew.
So far, only Gears of War has the really cool stuff. The shirts available are pretty spiffy, including a "Keep Calm and Active Reload" shirt or a gruff and tough portrait of the ultimate bro-man, Marcus Fenix.
Kendall Boyd, Epic's director of marketing for their worldwide studios, commented in the press release about the new online shop, saying...
Since the store just launched there's still a lot of paraphernalia that hasn't been added yet, but I'm sure it's all coming. For instance, there aren't a lot of shirts and gear for older Epic titles like One Must Fall 2097 or Epic Pinball. Man, I'd kill for an OMF t-shirt.
They also seem to have a lack of apparel and collectibles for Unreal, which should be their most prized possession given that Unreal and the Unreal Engine is what put Epic on the map as a prime-time player during the sixth and seventh generation of gaming.
You can check out more of what Epic has to offer in their growing online storefront by paying a visit to the official website.
Your Daily Blend of Entertainment News
Staff Writer at CinemaBlend.