Fortnite Alpha Begins This Week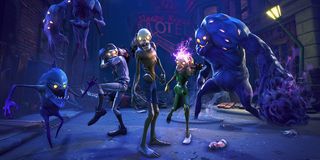 Gamers are about to get their chance to try out Epic Games' Fortnite. The co-op survival game's alpha test is set to begin this week and run through the month.
"The time has finally arrived! Today we sent out some invites for Fortnite's Online Test 1," Epic said. "OT1 is the first phase of the Alpha process for Fortnite and will run from Dec. 2 to Dec. 19. We are very excited to get Fortnite into players' hands for the first time."
This first phase of the alpha is focused on the core parts of the game. Epic admits that the game is still "rough around the edges" so expect a few bugs.
"During the month of December, we're testing to make sure all of our basic systems are working. This includes our onboarding process, launcher, and other systems that are important for an online game like Fortnite. We're also getting a baseline for how people play in order to make Fortnite better."
The alpha test is limited to a few thousand players right now. Some of the early testers had attended live events hosted by Epic over the past few months. The others were gamers who had registered for the alpha through Fortnite's website.
Invitations are being sent out over email. Epic will send out additional invites in waves over time. They say that a new round of invites will arrive this week. Some of these testers have also received keys to share with friends.
These testers will be restricted by a non-disclosure agreement. This means they won't be able to share screenshots or videos from the test. I'm sure that some videos will still leak anyway. Still, there's going to be less footage out there than there would be from an open test.
In Fortnite, players must work together to survive. During the day, they collect items and use them to create fortifications. At night, these defenses will be put to the test against waves of monsters. It sounds like the midpoint between Minecraft and Gears of War 2's Horde mode.
Fortnite is the first game to utilize Epic's Unreal Engine 4. They're developing the game first for PC but say that the game could come to consoles in time as well.
Your Daily Blend of Entertainment News
Staff Writer at CinemaBlend.
Your Daily Blend of Entertainment News
Thank you for signing up to CinemaBlend. You will receive a verification email shortly.
There was a problem. Please refresh the page and try again.