GTA 5 Is Celebrating Its 4-Year Anniversary In A Big Way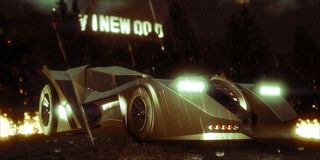 (Image credit: Rockstar Games)
Rockstar Games' Grand Theft Auto V has been out for four years. Can you believe that? It launched way back in the fall of 2013, just ahead of the release of the Xbox One and PS4. The game sold like crazy on just the Xbox 360 and PS3 alone, but after four years on the market and expanding to three additional platforms, Rockstar is celebrating the four-year anniversary in a big way.
Over on the official Rockstar Games website, the developers announced that there are a number of activities, bonuses, new content, and discounts to gather up during the anniversary event for GTA V. For starters, there's a special giveaway of $400,000 in-game cash for all players who log into GTA Online on the Xbox One, PS4 or PC version of the game during this month and before November 6th gets here.
Additionally, Rockstar added the new Adversary Mode called Condemned. This mode designates a single player as a "condemned" individual who will automatically die before time runs out. If time runs out then that player loses. The objective is to pass off the condemnation state onto another player as the time counts down. The last player standing before the timer runs out will be declared the winner. This particular Adversary Mode will also grant players double XP and money up until November 6th.
Of course, after you get that sweet, sweet $400,000 you'll likely want to buy stuff with it, right? Well, Rockstar decided to discount properties, vehicles and weapons by up to 30% off until October 30th. This includes all hangars, all bunkers, biker clubhouses, and vehicle warehouses. Various specialized vehicles will also be discounted by up to 30% off as well, along with other standard cars, motorcycles and aircraft.
And speaking of vehicles... the brand new Vigilante is being introduced into GTA Online, equipped with a rocket propulsion technology for amazing speed, as well as an armored shell, and front-facing machine guns that can be upgraded to a guided missile system. The specialized Vigilante will be exclusively available from Warstock Cache & Carry. You might notice that the vehicle looks awfully similar to the Batmobile from Tim Burton's 1989 Batman movie.
The vehicle has arrived in time with another new mode called Transform Races. These races are very much like a mixture of Skydrift meets Trackmania. They combine the stunt-filled driving with stunt-flying. Players must navigate through the obstacles in order to complete the track and win the races across multiple racing disciplines.
Rockstar has been iterating, upgrading, adding, and evolving the GTA Online experience. Funnily enough, though, the Transform Races is actually based on mods that were made for GTA IV and GTA V that the community had put together known as the Stunt Tracks, which featured bizarre and outrageous tracks that would extend far into the skies above Los Santos or Liberty City. There was even a community centered around racing through the tracks and attempting to make the best times. Rockstar figured to make it official and implement those kinds of races directly into GTA V.
You can get in on the double XP and money bonuses across various modes right now, while also checking out the new Adversary Mode: Condemned, or attempting to purchase the Vigilante so you can patrol the streets of Los Santos in dangerous style.
Your Daily Blend of Entertainment News
Staff Writer at CinemaBlend.