The Insane Number Of Copies Super Mario Odyssey Has Already Sold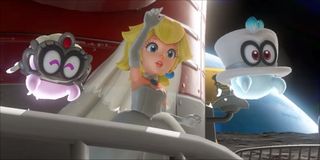 (Image credit: Nintendo)
Nintendo's Super Mario Odyssey launched just last week, on Friday, as an exclusive for the Nintendo Switch. Crazily enough the game has already sold an insane amount of stock within the span of just a few days over the weekend.
According to Polygon, Super Mario Odyssey has already moved 2 million copies within just four days. The game launched last weekend on October 27th, competing with other heavy hitters such as Assassin's Creed: Origins and Wolfenstein 2: The New Colossus.
However, one big caveat is that both Wolfenstein 2 and Assassin's Creed: Origins are multiplatform games. Those titles came out for PC, PS4 and Xbox One. Super Mario Odyssey only had a digital and physical release for the Nintendo Switch. So there's a massive amount of consumer demand and interest in the Switch's first-party AAA titles, despite it only being on a single platform.
We saw this same level of attachment to The Legend of Zelda: Breath of the Wild for the Nintendo Switch, which had, for a very rare moment, a higher software attachment rate than the amount of consoles available. In a rare feat, The Legend of Zelda: Breath of the Wild managed to secure a 102% software attachment to the Nintendo Switch. Part of that was due to a lot of retailer-made bundle packs being sold, but the console itself was on back order, so gamers received the game but not the console. Some retailers also shipped the units separately, so there was a sold-through count on the SKU but not for the Switch console since they weren't sold as an official Nintendo bundle.
It's a truly remarkable thing to have people love a brand that much where the software attachment rates exceed the amount of consoles even available on the market.
Speaking of which, Nintendo is still struggling to keep the supply threshold in synch with consumer demand. The Nintendo Switch is still sold out regularly, but supply has started to stabilize now that we've headed into the deeper parts of the fall season.
In fact, Nintendo mentioned in previous months that it would be ramping up production to meet demand for the fall, specifically to accommodate those who wanted to get a Switch for the holidays and pick up a copy of Super Mario Odyssey along the way.
In prior months, the Switch had fallen just short of expectations when it came to the NPD charts due to supply not being there to meet demand. Sony managed to pick up the wins for a couple of months throughout the summer, but Nintendo managed to reel it back in and take control heading into fall. This was also coupled with the broad success of the SNES Classic Edition, which has also reportedly moved 2 million SKUs since September. It's impressive, but not quite on par to Super Mario Odyssey moving 2 million copies in just four days over the long weekend.
It might be a safe bet to say that the latest Super Mario title will likely have an impressive shelf life for months to come.
Your Daily Blend of Entertainment News
Staff Writer at CinemaBlend.