Thor: Ragnarok Comes To LEGO Marvel Super Heroes 2 In New Trailer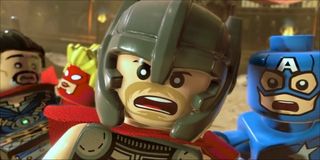 Marvel Entertainment's Thor: Ragnarok is expected to tear the house down when it arrives in theaters this weekend. However, if you don't have plans on venturing out to the theater to see Thor in action, you can see how Thor: Ragnarok is invading LEGO Marvel Super Heroes 2 in the latest trailer.
The trailer recently went live, giving gamers a firsthand look at the latest Marvel movie content set to make an appearance in LEGO Marvel Super Heroes 2.
The trailer is pretty hilarious and it combines the sort of marketing magic that Marvel had been using leading up to the release of Thor: Ragnarok by adding in those overtly excessive colors and synthwave music in the trailer. This particular trailer, in fact, seems to use the same kind of Magic Sword-esque retrowave track that was aired during one of the more popular trailers for the movie.
The content for LEGO Marvel Super Heroes 2 centers around Thor and the Avengers facing off against one of Thor's arch-nemesis, who ends up destroying a lot of Asgard and sending the world into chaos.
Now unlike the movie, this is actually more of an Avengers-themed adventure than a typical Thor story. In fact, the god of thunder is joined by Captain Marvel, Captain America, and other heroes as he ventures across a variety of locations all set within the LEGO universe.
The trailer reveals that the Planet Hulk segment consists of more than just one Hulk. In fact, the segment lives up to the name by featuring a plethora of different Hulk iterations that the Avengers have to fight against.
And speaking of different iterations... we see that Thor's presence in LEGO Marvel Super Heroes 2 is just limited to his Thor: Ragnarok outfit... in fact, his presence isn't even limited to just him. We see that Beta Ray Bill is also a playable character, along with a frog, and even fem-Thor. So there's something in there for everyone.
For those of you who have been desperately waiting for the game and can almost wait no longer, you actually won't have to wait for very long because the game is due for release in the middle of November starting on the 14th.
Much like the original LEGO Marvel Super Heroes or other LEGO Group games, players will be able to team up with friends in co-op and play through stories inspired by the Marvel Cinematic Universe.
As you can tell from the trailer above the content in the game isn't exactly a 1:1 representation of what you're likely going to see in theaters this weekend. However, a lot of the same story threads will be present for those of you enjoy the LEGO games. The upcoming title is due for release on PC, PS4, Xbox One and the Nintendo Switch. You can learn more about the pre-order bonuses by visiting the Marvel website game page.
Your Daily Blend of Entertainment News
Staff Writer at CinemaBlend.