The Surprising Way World Of Final Fantasy Is Getting A Sequel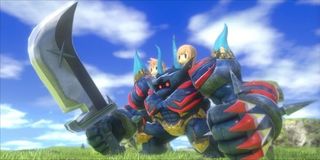 (Image credit: Square Enix)
Square Enix's World of Final Fantasy was a very interesting portable take on the classic, fantasy-oriented Japanese RPG series. Well, the popularity of the outing has apparently warranted for a sequel, but it's going to be slightly different than what you might have been expecting thanks to a surprising twist on how the game will be made available. It looks like it will be mobile only.
According to Gematsu, World of Final Fantasy's sequel will be called World of Final Fantasy: Meli-Melo and it will launch in Japan before the year is out... for the iOS and Android mobile platforms.
The game will still feature the two main characters from the first game, only this time there will be some tweaks to the story and combat. According to the article, developer Drecom will allow players to stack up their stash of collected monsters and use them in battle, allowing for up to six small characters to stack on top of each other, four medium characters, or two large characters.
In the previous outing of World of Final Fantasy you could stack the enemies that you captured. It was very much like Pokemon, where every enemy you faced off against could be captured and then added to your attack rotation by stacking the monster on the heads of the two playable protagonists. You could use the monsters to perform attacks while stationed on the heroes' head.
It was also possible to combine and level up the monsters, giving you more ways to fight back and unleash attacks on foes as you ventured throughout the game. It was a little bit like Devil Summoner or... Pokemon.
World of Final Fantasy: Meli-Melo will also take place in another world known as Valgallan. We don't know exactly what the story will be this time around. Given that the original game had an almost Disney-oriented tale of adventure about it -- making it somewhat like a less convoluted version of Kingdom Hearts -- expect a similar story for the sequel. One thing we do know is that the events will unfold as if told through the pages of a manga, which is an interesting approach.
Square decided to pull the trigger on making a sequel to World of Final Fantasy because the first game sold over 800,000 copies across PS4, PS Vita and PC. It only made sense to make a second game. However, one of the things that the article mentions is that World of Final Fantasy was intended to be a smartphone game but it was too expensive to build the game from the ground-up, specifically for smartphones.
It's explained in the article that it was cheaper and more efficient to build the game for the PS4 and PS Vita, and then if it sold well enough to utilize those assets to build down for smartphones.
In a way, I can absolutely imagine PS4 and PS Vita gamers being angered at the idea that in order to get more of World of Final Fantasy they will have to purchase an iOS or Android device, which could drastically limit the appeal for core gamers. Then again, Square might be banking on casuals picking up the tab. If the first game is anything to go by, expect a multiplatform release later on down the line after it saturates in sales on smartphones.
Your Daily Blend of Entertainment News
Staff Writer at CinemaBlend.