Gran Turismo Sport Is Making Some Changes, Get The Details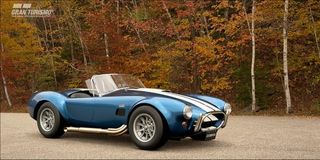 (Image credit: Polyphony Digital)
Polyphony Digital may have released _Gran Turismo Sport _ onto the PlayStation 4 and PlayStation VR platforms, but that doesn't mean that the developers are done with the game. In fact, president and creative lead Kazunori Yamauchi revealed that there's some big content on the horizon set to release for the racing sim.
According to a post over on the PlayStation Blog, Yamauchi-san revealed that starting November 27th, 2017, patch 1.06 will drop for Gran Turismo Sport, featuring three free cars. That's right, the developers will be giving gamers three free cars.
In this day and age where everything costs consumers an arm and a leg, it's probably nice for fans of Gran Turismo to know that some free content is being released. So what are the free cars? Well, there are some super fancy supercars that will be available, including the ISO Rivolta Zagato VGT. The crazy part about the Rivolta is that the Zagato Vision GT was made specifically for the PlayStation exclusive. The concept car isn't real... yet. The Milan manufacturer decided to work with Yamauchi and the crew to give gamers their first taste of the supercar.
On the more professional side of the list is the Audi R18 prototype for those Le Mans races you've been dying to win but just haven't found the right ride in which to chariot your skills to victory. With the Audi R18, you'll be able to do just that along the long straightaways and tight corners of the pro-touring circuits.
Last but certainly not least is one of my all-time favorites, the Ford Shelby Cobra 427. This car is such a dream with its lavishly rounded curves and shapely design from top to bottom. The 1960s racer falls short of today's supercars by failing to top 200mph but that doesn't make the Cobra a slouch by any means, it can still churn out more than 160 miles per hour, making it one of the fastest, most reliable and sexiest looking classics made by an American car manufacturer. This was always one of my go-to cars in previous Gran Turismo games thanks to low height and wide body that made it less likely to slide across arched turns, and the fat wheels that allowed it to really grip turns with nearly unparalleled traction when compared to its peers from that era.
The best part about these three cars being made available for Gran Turismo Sport owners, is that all three of them are also eligible to be customized with user-made liveries in the brand new livery editor included in the game. So you can tweak the vehicles to your liking under the hood and then giving them the kind of paint job they deserve in order to impress your buddies during the online races.
And speaking of online competitions... Yamauchi revealed that the GT League single-player mode will be making its way into the game this coming December. The league races will also be expanded throughout the end of the year and well into 2018.
12 additional cars will be made available throughout December as well, including two new Nissan Skyline GT-R Vs, a Mazda RX-7 Spirit R Type A, the Ford F-150 SVT Raptor, the Lamborghini Countach LP400, Ferrari F40, Ferrari Enzo, KTM X-BOW R, Suzuki Swift Sport, Volkswagen Sambabus Typ 2, and the Christ Holstrom Concepts 1967 Chevy Nova, along with the Stingray Corvette.
This is just a small taste of what's to come for Gran Turismo Sport on the PS4 and PSVR , which will be receiving an additional 50 cars in March next year.
Staff Writer at CinemaBlend.
Your Daily Blend of Entertainment News
Thank you for signing up to CinemaBlend. You will receive a verification email shortly.
There was a problem. Please refresh the page and try again.