Here's What The First Call Of Duty: WWII DLC Will Be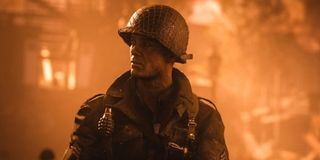 (Image credit: Activision)
The very first DLC package for Call of Duty: WWII was revealed well ahead of the game's actual release. In fact, the actual content was previewed during this year's Paris Games Week, giving gamers a look at some of the new weapons and maps they'll be able to play on.
Polygon is reporting that the first DLC pack for Call of Duty: WWII will release on January 30th, in 2018 on the PlayStation 4 first. There is no release date set in stone just yet for the PC or Xbox One versions of Call of Duty: WWII's newly announced DLC, but, typically, the DLC always arrives 30 days after the PlayStation 4 has access to the content as a timed exclusive.
The DLC is called The Resistance and it will feature a variety of maps across Europe. Polygon suspects that there will be several maps taking players to Poland, Germany, France and Czechoslovakia. This is based on an image that was on display in the promotional trailer for one of the maps that players will visit, called Carentan.
We also get to briefly see the Carentan map in action, where we get a glimpse at some of the buildings that can be occupied in order to take out enemy forces, or how players are able to commandeer a bomber and rain down artillery fire on unsuspecting foes running through the streets.
You can check out the trailer below, which aired during the Paris Games Week PlayStation media conference.
Interestingly enough, the description on the Call of Duty page explains that the Carentan map will be available for those who purchase the season pass as a day-one map. It's interesting because this map is also included as part of the Resistance DLC that won't be out until January next year. So, in a way season pass owners will gain access to the map early ahead of everyone else. For those who want to play the map but don't want to purchase the season pass you'll be able to do so starting January 30th.
Call of Duty: WWII is a return to the World War II era after Activision and the other developers spent several years working on sci-fi and futuristic iterations of the Call of Duty franchise. Gamers eventually became future-fatigued by the time Call of Duty: Infinite Warfare came along, despite the game being rather ambitious and having an expansive and lengthy single-player campaign.
Sledgehammer Games has already made it known that Call of Duty: WWII is going back to the more linear storytelling design paradigm that the series is known for, as opposed to the more open-ended structure that Call of Duty: Infinite Warfare had. You can look for the return to World War II to take place starting at the end of the week, on November 3rd for the PC, PS4 and Xbox One.
Your Daily Blend of Entertainment News
Staff Writer at CinemaBlend.