Splatoon 2's Next Splatfest Is All About Terrible Holiday Presents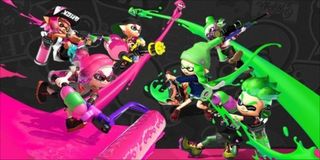 Nintendo just dropped some new details for the next Splatfest for Splatoon 2 players. The multiplayer events have been ongoing since the game's release in July, with Nintendo regularly announcing different kinds of Splatfests for different regions. The latest one is all about terrible holiday presents.
As depicted in the tweet over on the official Nintendo Versus account, the competition will come down between Sweaters versus Socks. Which one do you think is the bad holiday gift you would rather receive?
Sweaters will definitely keep you warm at night, but socks will keep you warm when you're out and about. Both are terrible gifts to receive when you're expecting something sexy in your stockings, like a Nintendo Switch, or Super Mario Odyssey, or the recent Game of the Year winner The Legend of Zelda: Breath of the Wild... or heck, maybe even a copy of Splatoon 2. However, some people will be (un)lucky enough to receive a sweater or a pair of socks for the holiday season regardless of whether they want them or not.
Here's your chance to pick a side and determine which of the two terrible holiday gifts you would rather receive. Personally? It's a complete toss-up, but the good part about socks is that you can put some boots over them and wear long pants to avoid anyone seeing the red and green-colored Christmas decorations depicted on them.
This newest Splatfest for Splatoon 2 gets underway this upcoming weekend starting on Friday evening at 9pm Pacific Standard Time. Like all previous Splatfests, you'll have just over the weekend to pick your side, put in your time and attempt to come out the victor.
The last couple of Splatfests were also holiday-themed, including the one that pitted vampires against werewolves, in what was sure to be a hot-button issue in the Twilight fandom communities. The event took place back in October, and the vampires beat out the werewolves.
The Splatfest before that had superheroes butting heads in a battle of flight versus invisibility. It's always been hard to tell which of the two powers was the better power, but Nintendo wasn't afraid to pit the two against each other to see which one would come out on top.
Nintendo has been using odd items to face off against each other in the Splatfests since the release of Splatoon 2 back in July. There was also the cake versus ice cream, and ketchup versus mayo. I know, some of these are just really bizarre.
Anyway, Nintendo hasn't just been holding Splatfest tournaments in the game, the developers have also been outputting new content as well, including new maps, weapons, and clothing items for players to acquire. If you don't own a Nintendo Switch but you want to take part in the Splatfest, you better work fast before Friday gets here.
Staff Writer at CinemaBlend.
Your Daily Blend of Entertainment News
Thank you for signing up to CinemaBlend. You will receive a verification email shortly.
There was a problem. Please refresh the page and try again.