Legend Of Zelda: Breath Of The Wild - The Champions' Ballad Is Now Available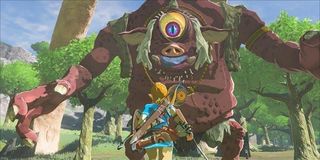 We knew that the Champions' Ballad DLC for The Legend of Zelda: Breath of the Wild was due out this month, but Nintendo never really narrowed in on a specific launch date. That all changed during The Game Awards last night, when it was revealed that the content would be made available that very evening.
Along with all of the trophies being passed out during The Game Awards last night, viewers were treated to quite a few trailers and surprise announcements. Nintendo had their fair share of time in the spotlight, and they used some of it for Beath of the Wild.
A new trailer for the Breath of the Wild DLC was revealed, ending with the surprising tag, "Available Now." That got quite a few cheers from the audience and, I'm guessing, a lot of folks at home running to their Switch to see if they could begin the download.
We're all for surprises. Sometimes developers show their hand way too early, leading to super long waits for games or DLC. We knew that Champions' Ballad was coming but, until now, Nintendo has been mum on a release date. Rather than end the trailer with an announcement that the DLC will launch in a couple of weeks or be delayed into 2018, it was refreshing to basically hear, "nah, y'all can just play it right now if you want."
As a reminder, this is the second part of the expansion pass for Breath of the Wild. The first chunk of DLC included some quality of life adjustments, some new items and a challenge tower. This latest batch of content includes a brand new dungeon to explore, as well as story adventures that give us a better understanding of the four Champions that serve as key figures in the game's hundred-year narrative.
Because this is Nintendo and sometimes they cray-cray, players will also be able to grab the Master Cycle Zero once they complete the story missions. This is, in fact, a motorcycle. It feels more than a little out of place, but I'm not going to pretend I don't want to cruise around Hyrule on a dirt bike.
Also included in this pack are nine new pieces of armor and Ancient Saddle and Bridle items to equip to your mount that isn't a motorcycle.
As a reminder, there's no way to buy the two DLC packs as separate items, so you've got to get the Expansion Pass if you want to get your hands on any of that content. The whole thing will set you back $19.99.
If you've had an opportunity to dive into any of that new content, feel free to share your spoiler-free early impressions in the comments below.
Your Daily Blend of Entertainment News
Staff Writer for CinemaBlend.