What You Can Expect From World Of Warcraft's Christmas Event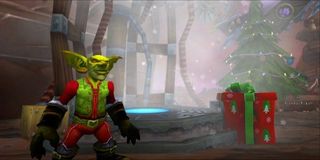 (Image credit: Blizzard Entertainment)
Blizzard Entertainment has a couple of really big events going down right now for World of Warcraft for subscribers and those willing to dive into the game during the holidays leading up and through the new year. In fact, if you've been wanting to check out the festivities you might want to hurry.
The news was published over on the official World of Warcraft website, where two different events are currently taking place. The first is the Feast of Winter Veil where the Ironforge and Orgrimmar will be visited by the Christmas spirit. You'll find gifts, trees, and all sorts of snowy festive spirits throughout Azeroth. The Feast of Winter Veil will be available throughout the remainder of the month, going from December 17th through to January 3rd, 2018 next year.
In addition to the Winter Veil Blizzard also has the Fireworks Celebration, which will take place between December 31st and January 1st. This is only a single day event that will see a huge celebration happening across every single region in World of Warcraft where a fireworks display will take place all night long every single hour starting from New Year's Eve and going all the way through to New Year's Day.
The real highlight is that Greatfather Winter will be representing Santa Claus throughout the event. This will include handing out gifts to gamers for completing the holiday-themed events, along with allowing gamers to partake in snowball fights.
In order to retrieve the gifts players will have to complete the quests that they'll be sent, which may include retrieving stolen reindeer, or defeating a boss called Racksum Greep. In addition to all of that, there will also be festival-only foods that players will be able to purchase or craft. There are a variety of different foods that will be available along with a special gift-opening event on December 25th on Christmas day where gamers will be able to head to Orgrimmar or Ironforge, where under the tree there will be gifts that players will be able to unwrap.
Much like previous holiday events for World of Warcraft, the gifts under the tree will be seasonal-only and will include lots of holiday-themed items, along with a special item on December 25th. There's no telling exactly what the item will be, but not every present will have something special inside. Some of the presents will contain holiday items, others will have junk inside.
The events will also come with all new achievements you can unlock along the way. If you're a completionist then that's definitely something to look forward to.
Blizzard is hoping to give World of Warcraft fans something to eat up all throughout the holiday season, similar to how the company has been rolling out a lot of events for games, including the current holiday event currently going on right now with Overwatch and Heroes of the Storm.
If you're currently subscribed to the game you can enjoy the holiday events and Christmas gifts right now in World of Warcraft up through to New Year's day.
Your Daily Blend of Entertainment News
Staff Writer at CinemaBlend.