The Latest Monster Hunter World Trailer Focuses On The Cute Cat Companions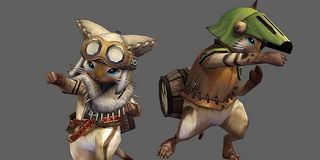 If you've ever played a modern Monster Hunter game, then you've probably gotten pretty familiar with the game's cute and rambunctious felyne companions. Well, they're getting to spend a lot of extra time in the spotlight once Monster Hunter World launches, as evidenced by the game's latest trailer.
Felyne are synonymous with the Monster Hunter series at this point, and they are an anthropomorphic race of cats that do everything from cook you meals to maintaining gardens and even returning you to camp after being defeated in battle.
Usually content to just hang out on the sideline, these frisky critters are finally ready to help out on the hunt, as evidenced by the new "Purrfect Palicos" trailer from PlayStation Europe. Not only will they be joining you in battle, but you'll actually get to dress them up in their own suits of armor, making MHW an early contender for Game of the Year 2018.
The trailer does a good job of showing off just how freaking adorable Palicos are. When you're walking through the water, for instance, they'll follow along in a little boat.
The trailer also shows off the wide range of customization options for the critters, which go far beyond the collection of options seen in the beta.
If you had an opportunity to jump into the recent MHW beta, you got to experience the wonders of Palicos firsthand. That's the name for the felyne that will be your constant companion in the game, which you get to customize the look of at the same time as your own playable avatar.
The great thing about this new breed of felyne is that they are yet another way Capcom has altered the core game to make it more inviting to new players. Monster Hunter can be played solo but, at a certain point, it can be super difficult to progress deeper into the game without some companions at your side. In older games for the series, that was especially hard, since you usually needed to be in the same vicinity of other players.
With Palicos, you can always have a brother in arms ready to fight monsters so, whether you're playing online with real-world friends or just plugging away at missions solo, there's always going to be a helping hand available. The best part is that you can equip your Palico to fight a certain way, giving them gear that will complement your own play style. If you want someone to dish out close damage while you fire away from a distance, give them a sword and shield. Would you prefer they hang back and provide support while you tank a monster? You can do that, too.
Monster Hunter World, and your very own Palico, will be ready to roll on Jan. 26 for the PlayStation 4, PC and Xbox One.
Your Daily Blend of Entertainment News
Staff Writer for CinemaBlend.
Your Daily Blend of Entertainment News
Thank you for signing up to CinemaBlend. You will receive a verification email shortly.
There was a problem. Please refresh the page and try again.