Bizarre And Sexy Puzzle Game Catherine Is Getting Remade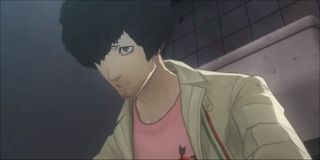 (Image credit: Atlus)
Studio Zero and Atlus are remaking Catherine, the PS3 and Xbox 360 game that came out last generation. The title originally launched six years ago, in 2011, but it will be revived and somewhat remade for the PlayStation 4 and PlayStation Vita.
According to Eurogamer, the title will include an all new episode for players to play through, and an entirely new character who will be added to the game. She will work as a pianist at the bar that Vincent and his friends visit frequently, which was the common setting where the majority of Catherine took place. The new character's name is Rin, and she will offer Vincent all new interactions, which includes all new cut-scenes, and the ability to open up a brand new ending for the game.
The updated version of the game will be called Catherine: Full Body, and it will feature improved visuals (likely in the form of higher texture resolution, richer shadow maps and higher resolution) for the PlayStation 4 version of the game. Don't expect the PS Vita to get the same graphical overhaul as its larger and beefier sibling.
The game will also reprise the puzzle games that were sprinkled throughout the adventure, with an all new, tougher, difficulty setting, and some new block-moving mechanics that players had to utilize. There's also the addition of an online multiplayer mode that will allow two people to compete against each other, something that the original Catherine only offered in the form of a local competitive multiplayer mode. Some fans are excited that Atlus has Studio Zero addressing and adding online multiplayer, even though the game was strictly a single-player, narrative-focused dramatic game.
Catherine: Full Body was announced for the PS4 and PS Vita, and was stated by Atlus to be in development, but we don't actually know what the exact release date is just yet. Sadly both Xbox One and PC gamers are being left out of the loop this time around, which is a real shame, because PC gamers have been showing a lot of love to Japanese publishers and developers lately, especially on Steam.
There also shouldn't be any worries from Atlus that a game like Catherine wouldn't appeal to PC gamers given that visual novels are some of the biggest, most consistent, and sometimes even the best-selling games on PC during certain periods of the year. A variety of visual novels have become huge hits on Steam, and Catherine's smorgasbord of genres does include being a visual novel of sorts, given that large parts of the game are just Vincent's slice-of-life scenarios. It's not unlike Atlus' other big seller, Persona 5.
However, where Catherine and the Persona series deviate is in the way the actual gameplay handles. Instead of battling monsters or fighting off a demon scourge, you take control of Vincent each night during his dreams, and attempt to climb your way up a tower of traps and obstacles in a nightmare-scape. In this regard the game plays out similar to something like Intelligent Qube, or a vertical version of Deception.
Expect to hear more about Catherine: Full Body moving into 2018.
Your Daily Blend of Entertainment News
Staff Writer at CinemaBlend.