Nintendo Switch Fighter ARMS Will No Longer Be Updated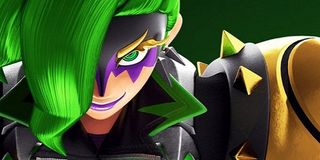 It looks like Dr. Coyle will be the last new playable character to join the roster of the exclusive Switch fighting game, ARMS. According to the game's developers, post-launch content for the unique brawler is wrapping up.
This news comes a bit earlier than expected, as ARMS only launched for the Switch back in June. Still, based on community buzz, it doesn't sound like the announcement was all that unexpected. While the game was a big draw when it first launched, it sounds like the player base has dropped off pretty steeply.
This news comes to us via a translation of the Nintendo update page from the folks at Gameinformer. According to the post, all major content updates for ARMS have now ceased, though the developer will continue to work on tweaks to make sure the final product is as balanced as possible.
If you've been following ARMS news recently, the game actually just launched its fifth DLC character. The nice thing about ARMS is that all of the post-launch roster members, maps and modes have been free of charge. The v.5 update included the diabolical Dr. Coyle, boasting one of the coolest designs we've seen to date. Rumor has it that additional fighters were initially planned for the game, so we're kind of bummed wondering what they might have looked like in the end.
Other added characters included the boss character, Max Brass, a clown named Lola Pop, a warrior named Misango and a robotic take on an existing character, Springtron. There were nine potential DLC characters datamined from the game a while back, all going by codenames. In case you're curious, the full list of codenames include Plant, Chain, Coil, Robo, Scroll, Sumo, Surprise, Sweet and Twintale. So, again, it would have been cool to see those extra four characters pop up at some point, but we understand why development has decided to move on.
When ARMS launched back in June, the only other major multiplayer game on Switch at the time was Mario Kart. Sadly, there wasn't much of a chance for the game to take hold, as Splatoon 2 launched a few weeks later and seemed to absorb a large chunk of the audience that probably would have gladly kept playing ARMS for a bit longer. The added stages and characters were joined by themed events and in-game medals recently but, at this point, it looks like not much can be done to win back the crowd.
Our guess is that the original plan was to keep rolling out ARMS content through the entire first year, as they still had quite a few new characters slated to be added to the game. It's also clear Nintendo wanted a serious community to form around the game for tournaments and whatnot, and that never really took form either. Still, it was nice while it lasted.
Your Daily Blend of Entertainment News
Staff Writer for CinemaBlend.