Nintendo Is Increasing Switch Production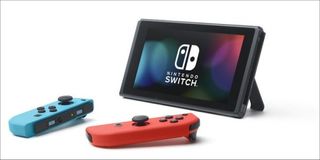 (Image credit: Nintendo)
One of the biggest hurdles that Nintendo has faced this year with the Nintendo Switch hasn't been with output of games (although more third-party support would help), it isn't with the functionality of the system, nor even the price. The biggest issue is that there haven't been enough Switch units made available for everyone, but Nintendo is changing that by increasing Switch production.
Digitimes is reporting that suppliers have noted that Nintendo raised orders for Nintendo Switch parts, thus hoping to increase production by up to two million units a month. The company is also hoping to meet the 20 million SKUs sold throughout the fiscal year, and deliver on that impressive mark before March of 2018 next year.
This news comes from the upstream supply chains who have been in charge of supplying Nintendo with parts for the Switch. Earlier in the year, there were some serious supply constraints due to Nintendo sharing supplies with Apple's upcoming iPhone line, and Apple took precedence over Nintendo as far as supplies were concerned, thus forcing Nintendo to battle for scraps.
What ended up happening was that NAND suppliers were in short order and couldn't deliver enough to meet the demand from the consumer market. This resulted in Nintendo not being able to meet that demand and many retailers suffered stock shortages.
GameStop and Walmart decided to improvise by bundling Switch units with additional accessories and games like Mario Kart 8: Deluxe or The Legend of Zelda: Breath of the Wild and marking up the price to $50 or $100 above SRP in order to capitalize on the fever pitch of excitement that consumers had for the Switch during spring and summer.
Nintendo -- despite not having enough supply to meet demand -- still managed to sell at least 4.7 million SKUs by the end of June. The company is likely hoping to pump out even more units for the holiday season rush, where the Switch is expected to sell huge during this November and December.
Additionally, the report indicates that Nintendo is hoping to raise production output in an attempt to sell the Switch over in China, which could prove to be absolutely huge business for the company if the console is approved to be sold on the mainland.
The Digitimes report also indicates that various other suppliers are attempting to win bids from Nintendo in order to produce Switch units as well.
The hybrid console has been a breakout success due to the fact that you can play games on the go as well as hook the console up to a docking station at the TV and continue your gaming session without any interruptions at all.
Another highlight for the Switch is that Joy-Con units can allow for up to two-players to join in on a game, as evident with titles like Super Mario Odyssey or 1-2-Switch, and the controllers also allow for motion-based gestures, and HD rumble support, whether in TV mode or handheld mode.
If Nintendo can thoroughly overcome the stock shortages, it's completely possible that the company could hit that 20 million figure rather quickly.
Your Daily Blend of Entertainment News
Staff Writer at CinemaBlend.
Your Daily Blend of Entertainment News
Thank you for signing up to CinemaBlend. You will receive a verification email shortly.
There was a problem. Please refresh the page and try again.