Universal Studios Japan Is Getting A Final Fantasy Ride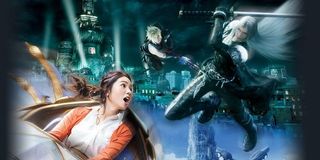 Universal Studios Japan is offering yet another limited time attraction, this time targeting fans of the Final Fantasy series. If you've ever wanted to come face to face with Sephiroth, now might be a good time to book your vacation plans.
Universal Studios Japan is doing its best to attract an untapped crowd of attendees. They've got a promotion called "Universal Cool Japan 2018," and it boasts attractions specifically geared at the otaku crowd. They've got themed rides, shops and the like based on anime such as Sailor Moon and Detective Conan, as well as video games including the Monster Hunter series and, most recently, Final Fantasy.
The Final Fantasy ride will only be around for a limited time, though, with the attraction disappearing come June 24. They've even got a trailer for the ride.
According to Gameinformer, this is actually a VR ride, and will be called Final Fantasy XR, because of course it is. At this point, we're kind of surprised it wasn't called Final Fantasy: Ridevious Point Exvius Prima, or some such nonsense.
Anyway, participants will strap on a VR helmet and sit in a cart that moves around in conjunction with what's happening in the headsets. A dramatized version of the experience is featured in the trailer, boasting a battle between Final Fantasy VII's Cloud and Sephiroth, a trip through Midgar and even an up-close visit with a herd of chocobos.
We figure it's a pretty good idea to start targeting gamers, as a lot of folks who grew up with controllers in their hands are now parents and might be looking to plan a family vacation. While the Final Fantasy ride is a temporary attraction, Universal Studios is also partnering with Nintendo to create a whole new section of the theme park called Super Nintendo World. This section of the park will boast all sorts of Nintendo-themed attractions, including rides, shops and decorations/sets that make it look like you're walking through one of the games.
We figure that the Final Fantasy ride being a limited engagement at Universal Japan could mean that it will be a traveling attraction, so there's always the chance it will make its way to the U.S. theme parks. Barring that, you're going to need to book a trip to Japan if you want to see what all of the fuss is about. So far, I can't find any first-hand accounts where people explain what other things you'll see and do while strapped into the VR experience.
As for future attractions, what games would you readers like to see turned into a Universal Studios ride? What would it be like? Let us know in the comments below.
Staff Writer for CinemaBlend.
Your Daily Blend of Entertainment News
Thank you for signing up to CinemaBlend. You will receive a verification email shortly.
There was a problem. Please refresh the page and try again.