Megan Fox Dishes On Teenage Mutant Ninja Turtles, Pines For Sailor Moon Movie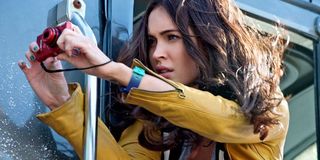 Like it or not, Megan Fox is April O'Neil, the fearless and open-minded human buddy of the titular teens of Teenage Mutant Ninja Turtles live-action movie. But she's claiming nerd cred on this one, insisting she's loved the turtles since she was a kid, just like the rest of us. Hey, she loved them enough to reunite with Michael Bay, a moviemaker she publically compared to Hitler. So that should say something right? But the Turtles aren't the end of her cartoon-centric ambitions.
Talking to EW, Fox was quick to praise the new direction Bay, who serves as producer, and director Jonathan Liebesman have Teenage Mutant Ninja Turtles. Yup, that includes the CGI makeovers that had fans of the cartoon show crying foul. But for Fox, the focus is the changes made to April to make the spunky heroine better-suited to 2014. Aside from swapping her signature yellow jumpsuit and red hair for a yellow leather jacket and long raven locks, Fox declares:
And as a major shift in the way Fox is represented, this role didn't require any skimpy outfits. "There's no gratuitous skin or sexual anything," Fox reports, "Jonathan was really insistent on not wanting her to be sexualized or to take that sort of typical role we've seen women take in movies thus far, and that I've taken in particular."
Having tackled Transformers and Teenage Mutant Ninja Turtles, Fox now has her sites on other cartoon characters she'd like to be in the flesh. In particular, she idly pitched a live-action Gundam Wing, which could play out like Pacific Rim by her estimation. Or perhaps a live-action version of Thunder Cats? Or the Japanese animated adventure series Sailor Moon? "That could feasibly be made into a live action movie," she asserts before confessing she doesn't know how popular the cartoon show was beyond her circle of friends.
This poll is no longer available.
As to her feud with Bay, she wants us all to know that's long behind them. She offers:
Whether their burying the hatchet could lead to Fox's dream Sailor Moon project remains to be seen, but we're doubtful.
Teenage Mutant Ninja Turtles opens August 8th.
Your Daily Blend of Entertainment News
Staff writer at CinemaBlend.