League Of Legends Developer Is Working On New Game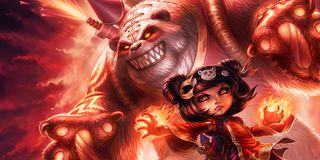 League Of Legends studio Riot Games is exploring additional games beyond their hit MOBA. Designer Ryan Scott teased a few details about this future project over Twitter.
The conversation first got rolling when he mentioned he's no longer working on LoL. Instead, he's part of the Research & Development team exploring new titles:
League of Legends is set in the fantasy world of Runeterra. We only get to see small pieces of it through the MOBA. Scott suggested that future games from Riot could further explore this world. The company's open to exploring a completely brand-new franchise, too, though:
Whatever Riot Games' next project ends up being, Scott says, it won't be out anytime soon:
Two years ago we got a look at one of these prototypes, albeit against Riot's wishes. Someone hacked into the Twitter account of Riot Games president Marc Merrill and began sharing screenshots of an online card game for PC called League of Legends: Supremacy. The hacker claimed that the game was fully complete but Riot would never release. Once Merrill regained control of his Twitter account, he admitted that they develop plenty of games that are never released:
League of Legends has been hugely successful for Riot Games. The game made roughly $1 billion dollars in 2014, up around $300 million from the previous year. The game could potentially make even more in the future.
LoL won't be on top forever, though. It's smart of Riot to start diversifying. It's hard to imagine that they'll come up with a second game just as popular as the first but at least a new game would help them offset the eventual decline that LoL will go through.
Staff Writer at CinemaBlend.
Your Daily Blend of Entertainment News
Thank you for signing up to CinemaBlend. You will receive a verification email shortly.
There was a problem. Please refresh the page and try again.