Marvel Reveals New Details Of Upcoming Avengers Gaming Project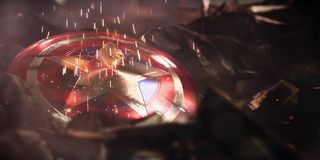 While the studio at Crystal Dynamics bulks up, it looks like development on the upcoming Avengers collaboration between Marvel and Square Enix is moving full steam ahead. And based on the latest details, we're starting to get a better picture of exactly what the game will be.
Last year, Square Enix and Marvel announced a partnership to bring a new Avengers game to players the world over. All we had to go on at the time was that the game is going to be a big AAA affair. Since Crystal Dynamics, the team behind the latest Tomb Raider games, is at the helm, many speculated that we were in for a single-player focused action romp. But based on a recent announcement from Marvel, it looks like things might be going in a different direction.
In the statement, Marvel touts a game with a "new and original" narrative that will bring the Marvel universe to players in a way that they can return to for years to come. They also promise the game will be "jammed pack" with characters and environments, as well as iconic moments.
Based on that rough sketch, we figure the now popular games as service model is part of the equation, which means this new Avengers game might lean closer to Destiny than Uncharted.
This is also unsurprising given what was revealed late last year concerning the upcoming Star Wars game. Another project under the Disney umbrella, we found out that the original team working on the game had been scrapped and the focus was moving from a solo action experience to, you guessed it, a games as service model. It seems clear at this point that Disney wants there to be games set in both the Marvel and Star Wars universes that, rather than be an iterative series, will keep players coming back to the same game regularly via events, regular DLC and the like.
There's a bit of speculation there, but it's based on some pretty specific language that has become quite familiar in the games industry these past couple of years.
Still, we can't help but wonder if they are chasing a trend that, by the time the games launch, will be played out for much of the audience. These types of games are doing well right now, but the tide seems to be shifting in player reception. Given the fact that the Star Wars game has all but started from scratch and the Marvel game is still staffing up, we have to wonder how many years out we are from even playing them.
Despite those reservations, it's not like we're not excited to finally learn what either of these games will actually be all about. The Avengers game has recently brought on some top talent from series like Batman Arkham, Dead Space and Uncharted, so it's clear they're taking the development very seriously.
Your Daily Blend of Entertainment News
Staff Writer for CinemaBlend.