Monster Hunter World Has Some New Content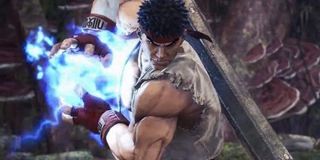 As is now standard practice for Monster Hunter: World, some fresh content was dropped into the game heading into the weekend. This most recent update includes more than your standard weekly refresh on specific missions, though, with crossover content from Street Fighter finally stepping into the arena.
If you see Street Fighter's Ryu running around in Monster Hunter: World on the PlayStation 4 this week, you're not hallucinating. And if you're wondering why I only named one console there, it's because the legendary warrior is currently only available for a subset of a subset of players. First, you have to be playing World on the PS4. Second, you have to have a save file from Street Fighter V (either version of that game will do). If you meet both of those criteria, you'll discover a new challenge has become available called "Down the dark, muddy path."
As for the content of the mission, Gamespot is reporting that it requires you to jump in the arena and hunt down a Barroth. Doing so will net you rewards that can go toward building the Ryu armor set. Keep in mind this is a complete set and can't be mixed and match with other pieces of armor; you either look like Ryu head to toe, or you don't.
If you're feeling left out on the fun, there's no need to fret. This is only a timed exclusive mission that will be made available to all players on the PS4 and Xbox One at a future date. Also on the way from that set will be missions focused on unlocking a Sakura skin, also from the Street Fighter series, though I don't believe it will have any sort of time exclusivity to it. The same can't be said for Horizon's Aloy, though, which we know is heading to PlayStation 4 players at some point in the future. Also, there will be a Mega Man set for your Palico, so Capcom is clearly set on keeping these goofy crossovers going. That's not a complaint, as the absurdity of MHW is a big part of its charm.
While that wraps the more interesting loot drop for the week, there's still plenty of regular weekly reset activities to jump into over the next several days. Limited Bounties for the week include hunting three "bird Wyvern-class" monsters, hunting four Anjanath and five tempered monsters. Doing so will net you some special crafting items that come in handy for late-game gear, and completing all three will earn you even more rewards. If you aren't high enough level yet to tackle some of those, fear not, as they refresh every week with new challenges and fresh rewards.
Similarly, there are a bunch of weekly event quests up for the taking by checking any mission board and, yep, they'll refresh with some new missions come next Friday. These types of quests may not add to the story or push every player's skill set, but at least they give you plenty of extra reasons to keep coming back for more.
Staff Writer for CinemaBlend.
Your Daily Blend of Entertainment News
Thank you for signing up to CinemaBlend. You will receive a verification email shortly.
There was a problem. Please refresh the page and try again.