Capcom Announces Street Fighter V: Arcade Edition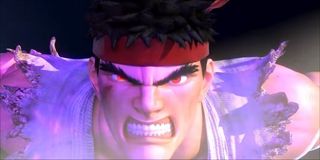 (Image credit: Capcom)
Capcom has announced that there will be a new version of Street Fighter V in the form of Street Fighter V: Arcade Edition. Previously the company had said that there wouldn't be a multitude of versions of Street Fighter V, but given that the game initially sold quite poorly, I think the company may have decided to step back on that policy.
Over on the PlayStation Blog Capcom's social media specialist, Andy Wong, revealed that Street Fighter V: Arcade Edition will be made available on the PS4 starting January 16th, 2018 next year. The updated version of the game will feature both season 1 and season 2's DLC, which includes the new characters, modes, colors, and costumes.
And since the upcoming version is appropriately titled "Arcade Edition" it only makes since that the fully fleshed out and thoroughly playable Arcade mode will make the cut out of the box. Many of you might be questioning why that would even be a feature, but keep in mind that when Street Fighter V initially launched in early 2016, it did so without an Arcade mode.
Capcom spent the remainder of 2016 patching, updating, fixing, and adding in new modes for the game to help bring it up to par to what was already present in games like Street Fighter IV when it initially launched.
In addition to the two seasons worth of content, there's also going to be an Extra Battle Mode and some new V-Triggers for the characters.
The roster will contain all 28 characters, along with one additional character that will be announced soon. This new character comes after Capcom had already added characters like Abigail, Menat, and Akuma to the roster recently. Abigail was a surprise entrant from Capcom's old Final Fight series, which hasn't had a new game in ages. Capcom has just been slowly moving over characters from the series into other games and crossover titles like Marvel vs Capcom: Infinite. Maybe one day we'll actually get a proper Final Fight game, eh?
Anyway, the Arcade Edition of the one-on-one fighting game is part of Capcom's celebration of Street Fighter's 30th anniversary and will include an all-new gallery, a UI design overall, and all of the latest balance patches and fixes that were released over the last two years.
The best part about this news, however? It's the fact that anyone who already owns Street Fighter V will receive all of the features from the Arcade Edition for free. So you won't have to buy the new game in order to get your hands on all the new goodies, new mode, new V-Triggers and new options.
This will likely entice a lot of gamers who were waiting for a GOTY edition (which never really came) to get the next best thing, and it also convinces other gamers who were on the fence about not wanting to buy a bunch of new DLC to hold out and pick up the complete edition of Street Fighter V: Arcade Edition in January next year.
Your Daily Blend of Entertainment News
Staff Writer at CinemaBlend.