New Sea Of Thieves Video Breaks Down Character And Ship Customization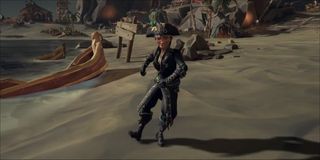 Leading up to the March 20th launch of Sea of Thieves for the Xbox One and the PC, Rare and Microsoft have been ramping up the promotion of the seafaring, competitively co-op adventure game. This promotion includes new videos detailing the character customization and ship customization.
The video was posted up on the official Sea of Thieves YouTube channel, detailing the customization features over the course of five and a half minutes.
Sam Chester and Ted Timmins, the character artist and Windows 10 lead designer, talk about how instead of having a standard character creation utility with tons of sliders and prefabricated facial, body and hair types, the team decided to use a pirate generator utility for the base pirate types. So when it's time to start the game you pick from a base pirate body, which randomly generates to give you a load of different pirate body archetypes to choose from in Sea of Thieves.
The default bodies are centered around height, width, gender, and skin tone. There are also a few facial features or accessories that the defaults may or may not come with. From there, you'll be able to deck out your pirate with beards, jackets, trousers, boots, pantaloons, belts, patches, hair-styles and more.
The customization for the pirates comes mostly from the exploration and questing you'll be doing across the seemingly many isles spread out across the game world.
The designers explain that instead of creating and recreating each asset to fit with each body type, the engineers designed procedural morphs for the clothing, allowing different types of clothing to fit around every body type in the game. Not only that but each type of clothing can also work with every type of accessory in the game, from peg-legs to hooked hands, and from bandanas to pirate caps and everything else in between.
The developers explain that Sea of Thieves has a horizontal progression system and not a vertical progression system. It's not about acquiring clothes that have stat stacking. Instead, clothing is all cosmetic. None of the clothes will make you stronger... but they will make you look cooler, similar to Saints Row.
Additionally, you can customize your ship, too. This allows you to alter the sails, the hull and the figureheads at the prow of the ship. There are also liveries that can change the way teams can represent themselves in the game.
Of course, you don't have to customize anything in Sea of Thieves. If you want to be a lowly looking pirate where skill is your preferred way of presenting yourself, you can do that.
Sea of Thieves is due to launch later this month for Xbox One and Windows 10 for PC.
Your Daily Blend of Entertainment News
Staff Writer at CinemaBlend.