Saints Row Developer Deep Silver Has Been Acquired By THQ Nordic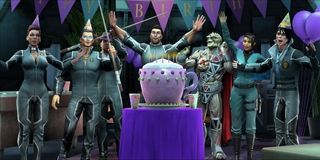 (Image credit: THQ Nordic)
The big news that has been circulating recently is how THQ Nordic has acquired Koch Media. You might be wondering what the significance of this is, and, essentially, THQ Nordic is now back over the Saints Row franchise, which was originally published under the THQ label before the original company dissolved following bankruptcy.
Under the Koch Media label there are other subsidiaries, which includes Deep Silver, the current publisher for Saints Row games. Deep Silver picked up the property back in 2013 after the original THQ filed for bankruptcy, as reported by Techno Buffalo.
The current deal sees all of Koch Media's properties being moved under the THQ Nordic umbrella, and this was done for €121 million. Under the deal, THQ now has rights and 100% of the share capital of Koch Media and its intellectual properties, which includes the aforementioned Saints Row, the Metro games, Dead Island, and the Homefront series.
THQ Nordic decided to expand its library of content and make moves to become one of the few AAA publishers in the market.
The acquisition sees 15 of Koch Media's intellectual properties coming under the THQ Nordic library, which will bring the total company portfolio of IPs to 106 when combined with the 91 properties currently under THQ's label.
There are now 36 game studios between Koch Media and THQ Nordic, and more than 1,634 employees under both brands. THQ has 12 announced games in the pipeline, while Koch Media has five. There are an additional 33 unannounced projects in the works under both labels.
We don't get to learn much about these unannounced games, but we do learn that there are four ongoing AAA games in the works, one of which includes 4A Games' Metro: Exodus, which is due out later this year for home consoles and PC.
There are a few other surprises mentioned in the press release, including two other AAA projects that have not been announced yet. One of those titles is currently in development by Volition Studios, the makers of Saints Row. It could be another Saints Row or it could be something else, but given that Agents of Mayhem didn't do particularly well last year, Volition might be moved back to something that the creative team is more familiar with and has proven to be a worthwhile seller.
The last of the four new AAA games is in the works by Dambuster Studios, which is the group that was behind the most recent Homefront: The Revolution outing. The studio is currently working on its next AAA releases, but details on it have not been divulged.
We'll see if THQ Nordic can avoid the same pitfall that the previous THQ fell into when it spent $50 million on the uDraw Studio device and software, which did not sell at all. It eventually caused THQ to file for bankruptcy shortly thereafter. It appears that THQ Nordic is going to stick solely with making core games for the core market for the time being, so we'll see how well that turns out, as some of its games will be releasing throughout 2018 and beyond.
Staff Writer at CinemaBlend.
Your Daily Blend of Entertainment News
Thank you for signing up to CinemaBlend. You will receive a verification email shortly.
There was a problem. Please refresh the page and try again.