A Massive Number Of Fortnite Accounts Have Been Hacked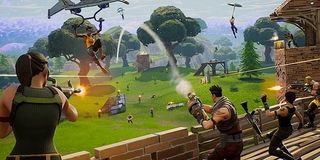 If you're one of the millions of people who has been enjoying Fortnite this past year, you might want to keep a close eye on your account activity. According to recent reports, a number of player accounts have been hacked, resulting in hundreds of dollars of unauthorized purchases.
The internet has been buzzing these past couple of weeks with rumors of fishy activity on various Fortnite accounts. According to Kotaku, Epic has now come forward to say that, yes, some accounts have been hacked and, yes, they are working to fix the issues.
The initial report highlights the tale of one player who was contacted by a friend asking if they had played the game's cooperative mode, Save the World. While the insanely popular and free-to-play Battle Royale mode has earned the majority of headlines in recent months, Fortnite's cooperative mode, Save the World, is still in a premium testing phase. Patient players will eventually get to dive into that mode free of charge but, for those wishing to enjoy it early, you can fork over some funds to jump in now.
As the original story notes, the player in question had not purchased the Save the World mode, so they were, of course, curious to discover that a friend had seen their account online, playing it. Next thing they knew, they had received a couple of in-game receipts totaling $250.
That's one of the more extreme examples, and apparently the guy was able to contact Epic and get a refund on those purchases. Hopefully they took the time to lock down their account, too. What's worrying is that more players have come forward with similar stories and, for their part, Epic has confirmed that some sort of breach has indeed occurred.
What's interesting about Epic's response is that it states well-known hacking techniques were used to hijack some accounts. If they are so well-known, we have to wonder why measures to counteract them have not been taken until now. Of course, we're just outsiders looking in on this whole mess, so maybe things are a bit more complicated than that.
Still, Epic states that the issue will be addressed and that any Fortnite players experiencing similar issues should contact customer support to get things sorted out. Those who are fearful for their own accounts might also want to take advantage of the recently implemented two-step verification process for login.
We'd be interested in learning how many accounts were hacked, but Epic has not offered those details at this time.
A lot of publications are reporting that Fortnite can be a dangerously addictive game, but we'd argue that's no reason to hack people's accounts and take advantage. Be sure to report any fishy activity on your account to Epic.
Your Daily Blend of Entertainment News
Staff Writer for CinemaBlend.