April's Free PlayStation Plus Titles Include Mad Max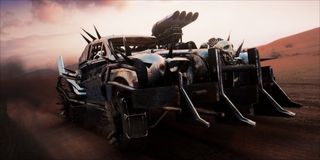 (Image credit: Warner Bros)
Sony unveiled the six free games that PS Plus subscribers will be able to get their hands on this April for the family of PlayStation devices. This includes AAA titles like Avalanche Studios and Warner Bros. Interactive Entertainment's Mad Max video game.
Over on the PlayStation Blog it was revealed that Max Rockatansky's eighth-gen video game outing would be leading the charge of free games for PS Plus with Avalanche Studios 2015 outing of Mad Max. PlayStation 4 owners will also have Trackmania Turbo from Ubisoft to fill out their PS Plus offerings for the month of April. Those are two worthwhile games that will likely fill out a lot of play time from gamers, notwithstanding the other PS Plus titles made available.
Speaking of the other games, there's also In Space We Brawl for the PlayStation 3, along with Toy Home. Those are games that most PS3 owners probably won't get too excited about, but if you're into beat-'em-up brawling titles and you own a PS Vita, 99 Vidas will be made available. The game 99 Vidas first made its appearance on Steam for PC a couple of years ago. The last game on the list is the Q*Bert Rebooted title for PS Vita, but if you also own a PS3 or PS4 it's available as a cross-buy title.
Obviously, the two most talked about games from this selection of titles for PS Plus are Trackmania Turbo and Mad Max. The latter title came out the same year as George Miller's Mad Max: Fury Road, but the game was slightly overshadowed by the fact that despite being a very competently made open-world action title, it didn't quite have the story kick that the movie did to make it quite the standout it could have been.
Of course, for gamers who enjoy driving around, scavenging for parts in the wastelands of a future, post-apocalyptic Australia, and derive a sense of satisfaction and adrenaline from engaging in dynamic vehicular combat, then you'll definitely enjoy Avalanche's take on Mad Max. The developers worked hard to improve on the vehicular physics and combat that's typically featured in the company's Just Cause trilogy. The only downside was that Max in the game didn't look like Mel Gibson, nor did he look like Tom Hardy. I'm sure there would have been a huge boost in sales if Mel Gibson was the one featured in the game.
However, if you like the whole racing thing but you don't like the combat thing, Ubisoft's Trackmania Turbo could satisfy your itch for competitive stunt racing. The game came out back in 2016, so it's a lot more recent than some other games that have appeared in the PS Plus list of free titles.
Trackmania Turbo, unlike some of the other games in the series, actually contains multiple biomes in a single package without requiring to purchase separate packs, which is how it's setup with Trackmania Valley and Trackmania Stadium.
All six games will be available during the first week of April. If you have a PS Plus subscription, you'll be able to get a hold of the games for the PlayStation platforms in your possession.
Your Daily Blend of Entertainment News
Staff Writer at CinemaBlend.