Twitch Prime Is Giving Away More Fortnite Loot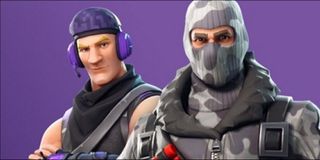 (Image credit: Epic Games)
Part of the collaboration that Epic Games has with Twitch is that there are benefits being handed out to Twitch Prime members who play Epic's Fortnite, specifically the Battle Royale mode that has taken the video game world by storm.
The news was rolled out over on the Twitch.tv blog, where it was revealed that starting March 29th, there would be exclusive Battle Royale goodies handed out to Twitch Prime users via the Twitch Prime Pack. This includes the Battle Royale Instigator Pickaxe, the Battle Royale Havoc Outfit and Back Bling, the Sub Commander Outfit and Slipstream Glider, and a couple of exclusive heroes for Fortnite's Save The World mode.
You'll also be able to retrieve four exclusive stickers. The Prime Pack's characters and gear will help players stand out from everybody else. The glider contains a purple and gunmetal gray livery, looking like something high tech and out of Volition Software's Saints Row.
The Sub Commander outfit is a gray camouflage-themed outfit with explosive shells strapped across his chest. He has an overcoat on and a matching camouflage ski mask. The Havoc outfit is themed around light infantry gear with a purple headset, and black tactical shirt with an upper torso harness.
Twitch Prime users will gain access to the Instigator Pickaxe in Fortnite, which is a black-handled melee and construction item with a red axe head on one side and a silver-tipped pick on the other hand. You get both a melee weapon and a way to gather materials quickly and efficiently.
If you don't have Twitch Prime, you can create an account, and then link your Epic Games account to your Twitch account. Once you log into Fortnite you'll be able to claim your Twitch Prime Pack.
You'll have to head back to the Epic Games Twitch Prime promo site and check for the "Loot Acquired" message. If you attempt to play the game with the Prime pack before you see the message, you will not be able to actually use the gear.
You will have to first see the message "Loot Acquired" from the Epic Games Twitch Prime page before the gear becomes accessible within the game itself.
Once you see the message then you have to go back to the launcher and boot up Fortnite. This will allow you to gain access to the Twitch Prime Pack loot.
The good part is that this loot is available for multiple platforms. You can retrieve the Twitch Prime Pack even if you're playing on Xbox One or PlayStation 4. It's not limited to just PC gamers.
Recently the game managed to break a YouTube record, garnering massive amounts of concurrent views after Epic Games held a Battle Royale tournament. The game also gained plenty of press after a live-stream took place where music artist Drake played with a Twitch user.
Fortnite gained lots of popularity after Epic introduced the free-to-play Battle Royale mode last year, following on the success of PlayerUnknown's Battlegrounds. Gamers who are interested in getting their hands on the exclusive Twitch Prime Pack can do so right now.
Your Daily Blend of Entertainment News
Staff Writer at CinemaBlend.