Telltale Officially Announces The Walking Dead: The Final Season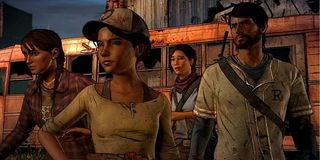 With The Walking Dead television series looking to come to a close, it makes sense that the team at Telltale Games would decide to bring an end to their own story set within the zombie-filled apocalypse. And according to their latest announcement, that's exactly what's about to happen.
Over on the Telltale Blog, they've offered a sneak peek at what they're calling "The Final Season" for The Walking Dead. We've got a pretty impressive background to work with, too, which makes it clear that quite a bit of time has passed since we last saw our heroes struggling to survive in a world gone mad. In it, Clementine has clearly aged several years, which is also evident by the fact that the baby she was looking after now appears to be about four or five. Clementine is still wearing her trademark baseball cap and wielding an axe as a bunch of walkers shamble in her direction
Telltale has set the stage for the big reveal at PAX East, saying they will give more details on the final season of The Walking Dead once the big show rolls around. For those planning on attending, or those who simply want to tune in online, the reveal will take place on Friday, April 6, from 12:30 to 1:20 p.m. ET in the Albatross Theatre.
The show will be hosted by Kinda Funny's Greg Miller, alongside members of the team. The voice of Clementine, Melissa Hutchison, will also be on stage to share news, answer question and the like. The on-stage team will do a retrospective on the entire Telltale series, following Clementine's journey from terrified kid to terrifying (if you're a zombie) badass. If you have the time, the show will be broadcast live through Telltale's Twitch feed.
Looking back, it's hard to believe we've been following this story for five years at this point. The Walking Dead is the series that made Telltale Games into a household name for gamers. They had released a few titles up to that point based on IP like Back to the Future and Jurassic Park, but The Walking Dead was the first time they truly nailed the formula. And while some folks feel the choose-your-own-adventure mechanics could be pushed further, they've basically set the standard for the industry and spawned a pretty great fad of more games offering players choices that have an actual impact on the narrative.
We've followed Clementine through a handful of seasons at this point, as well as ventured into other adventures with a couple of shorter spin-off adventures. Filling the gaps between those games were a ridiculous number of series based on other IP ranging from Minecraft and Game of Thrones to Batman and Borderlands. So, yeah, it's been a wild ride, and we're definitely looking forward to seeing how it ends.
Staff Writer for CinemaBlend.
Your Daily Blend of Entertainment News
Thank you for signing up to CinemaBlend. You will receive a verification email shortly.
There was a problem. Please refresh the page and try again.