Fortnite Now Available For Apple Devices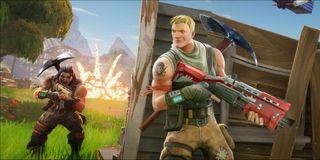 If you felt like one of the uncool kids left out of the invite-only Fortnite mobile shindig up to this point, it's officially time to crash that party. As of now, the game is available for iOS, no strings attached.
Word went out through Twitter this Monday (via Polygon) that the mobile version of Fortnite was going live on iOS for all comers. Up to this point, you either had to receive a special link from various promotional giveaways or get invited by a friend to play Fortnite on mobile. The official iOS launch means more players than ever are about to storm onto the game's large map in the hopes of being the last player standing.
In order to play Fortnite on mobile, you need to be running iOS 11 on one of a handful of smartphones including the iPhone SE, 6S, 7, 8 or X. The game can also run on the iPad Mini 4, Air 2, 2017 or Pro models. If you're still feeling left out due to the fact that the game is not available on Android devices yet, fear not. Epic has stated they're hard at work on a version of Fortnite for mobile and that it will launch for that platform as soon as it's ready for prime time.
The reviews for the mobile version of Fortnite seem to be pretty positive, as the game looks great and plays well on a touchscreen. Obviously, a controller or mouse and keyboard are ideal, but swiping and tapping work well enough when you're on the go and desperate to get in a couple rounds of Battle Royale. Building is nowhere near as fluid as on other more traditional platforms, obviously, but the mobile controls get the job done.
We're not sure if the mainstream media has tired of talking about Fortnite yet, but this will likely give them extra fodder for their silly stories about how kids are becoming addicted to the game or how schools are in serious trouble due to the fact that students can now play these games on the go. Just imagine how crazy it's going to be when the official Android launch rolls out and anyone with a decent phone can play the game.
What's extra cool about the mobile version is that, like the console and PC versions, your account is unified. That means' you'll be able to play the exact same game, with all your exact same gear, across multiple platforms. Your progress in one version carries over to the next, so you never have to feel like you're dividing your time between two versions of the same game.
The good news for Android fans is that, while Fortnite is still a no show, you can go ahead and pick up PlayerUnknown's Battlegrounds to help kill the time.
Your Daily Blend of Entertainment News
Staff Writer for CinemaBlend.
Your Daily Blend of Entertainment News
Thank you for signing up to CinemaBlend. You will receive a verification email shortly.
There was a problem. Please refresh the page and try again.