Sea of Thieves Will Let You Make Your Ship Private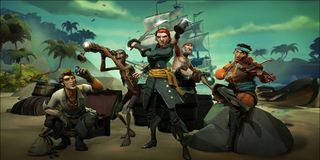 (Image credit: Rare)
Now that Rare's Sea of Thieves has made its way onto the market for Xbox One and Windows 10 users, plenty of gamers have been experiencing the emergent gameplay that the seabox title has to offer. Unfortunately for some, they've been paired with people they don't really like playing with, but Rare has a fix for that.
Over on the official Sea of Thieves website there's a post from executive producer Joe Neate, who explains that there are plans to address an issue where some players are misusing the brig because they want to play with certain players or they only want to be in matchmaking sessions with people who speak the same language as them or those who have mics.
Rare is investigating a way to make it so ships can be set to private and players can only have certain people in their crew. At present, the way it's setup is that players start and choose the kind of ship they want and then whether or not they want to invite other players to join the crew. If you do choose to invite other players you can fill up your ship with friends, which is nice if you only want certain people in your crew. Alternatively, some people might invite a friend or two but then there are several other slots open, which could mean people who you don't want joining your team could end up on it anyway.
For people who only want certain players on their team, Rare is looking into making sure people can turn their ship private so that not just anyone can join in on the adventure. Instead, this would mean players can send out invites and any slots that aren't filled will just stay empty.
This also ties into another issue in Sea of Thieves where players have no control over the matchmaking preferences. As mentioned, some players only want to play with other people who heave a microphone, while others only want to play with those who speak their language or are from their region. Rare is looking into implementing a way for gamers to join or filter out who they want to team with in the game.
The team is also looking into fixing a few other issues, such as the cheating issue that is slowly starting to creep its head up from under the tarp. Cheating is an issue that all major online games suffer from, including the wave of new Battle Royale games such as PlayerUnknown's Battlegrounds and Fornite. In fact, Epic even tried suing some cheaters to curb the use of cheats in its online survival game.
For now, the cheating pool is extremely tiny in Sea of Thieves, so Rare isn't prioritizing that fix right now. The team will be looking more into the immediate issue of improving the game's overall content roadmap based on player feedback from Xbox One and Windows 10 users. Many gamers noted that while the gameplay loops are solid, Sea of Thieves lacks proper content scalability and lacks any good endgame loops.
Rare will hope to address this issue soon, along with improving the options afforded to players when it comes to making their ship private and inviting certain people into the game.
Your Daily Blend of Entertainment News
Staff Writer at CinemaBlend.