Six Star Wars Titles From The Original Xbox Are Going Backwards Compatible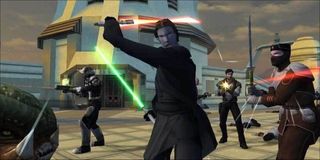 (Image credit: Disney)
A number of games have been made available as backwards compatible titles for the Xbox One from the OG Xbox era, including six Star Wars games that were huge fan-favorites during the sixth generation of gaming some 15 years ago.
Over on the official Xbox website, there's a list of the games that are now available as backwards compatible titles from the OG Xbox era that can now run on the Xbox One, Xbox One S and the Xbox One X with 4K upscaling enhancements.
The list includes underrated classics from Pandemic like Destroy All Humans!, and Full Spectrum Warrior, along with the original Mercenaries: Playground of Destruction, which were all quite well received well over a decade ago. Destroy All Humans!, in particular was a physics-based third-person shooter that really set a new standard of what to expect from third-person shooters, but those games, along with MX Unleashed and the Panzer Eli Action: Fields of Glory don't compare to the popularity of the Star Wars games that you can now play on the Xbox One family of home consoles.
At the top of the pack is Pandemic's Star Wars: Battlefront and its sequel, the latter of which is oftentimes hailed as the "real" Battlefront II, since it came jam packed with dozens of levels, local co-op, local PvP, a four-player cooperative campaign mode, the Galactic Conquest Mode and the Hero Assault. Both of these games set records when they released, moving millions of copies across PC, PS2 and the OG Xbox.
Recently Disney had the servers turned back on for the PC version of Star Wars: Battlefront II following the online mode hiatus after GameSpy shutdown. I imagine plenty of Xbox gamers are probably itching to get back into the fray in these two titles.
One of my all-time favorite Star Wars games is also now backwards compatible, Star Wars: Jedi Knight: Jedi Academy. It was a really unique take on the series, offering gamers the ability to create their own character and venture through a narrative-driven tale that would either lead your character toward the Light or the Dark side. It was very similar in ways to the storytelling of Knights of the Old Republic... and speaking of which, Obsidian's Star Wars: Knights of the Old Republic II: The Sith Lords is also currently available as a backwards compatible title. While it wasn't quite as well received as BioWare's original for the OG Xbox, Knights of the Old Republic II still had a faithful following.
If you're more into aerial space combat then Star Wars Jedi Starfighter might be up your alley. I didn't particularly care for this game because it was kind of stale and boring, but it was also one of the only available space combat games based on Star Wars during that era save for the Star Wars: Rogue Squadron games for the Nintendo GameCube.
Last but certainly not least is Star Wars: Republic Commando, which is a squad-based shooter that a lot of people compared to Halo and Ghost Recon. The similarities were definitely there due to the fact that the game relied on squad tactics, but was set within the sci-fi world of George Lucas' Star Wars, making it a fan-favorite amongst Star Wars fans and military tactical shooters alike. You can now experience all of these games right now via backwards compatibility on the Xbox One, either via digital download or if you still have the original Xbox physical DVD.
Your Daily Blend of Entertainment News
Staff Writer at CinemaBlend.