Billy Mitchell Responds To His Donkey Kong Records Being Removed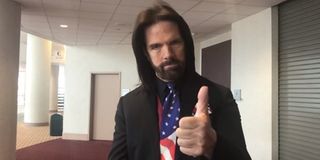 The ongoing saga of Billy Mitchell continues today as the former King of Kong finally speaks out concerning his arcade high scores that were recently wiped from leaderboard website, Twin Galaxies.
The above video was recorded for Old School Gamer Magazine, which tracked down Mitchell at the Midwest Gaming Classic to get his official take regarding the recent kerfuffle concerning his high scores posted on Twin Galaxies. That site is considered the official and final say on arcade high scores, with separate sections for straight cabinet play and games that were played on MAME software. When it comes to video game high scores, even Guinness relies on Twin Galaxies to keep everything in order.
Most folks know Billy Mitchell from his appearance in the film King of Kong, in which an up and coming Donkey Kong player challenges Mitchell's longstanding high score. That score has ping-ponged around quite a bit in the years following the film, but Mitchell still held quite a few high scores on other classic arcade games.
We're using the past tense because, following an investigation by Twin Galaxies, it was determined that several of the scores Mitchell reported as being made on arcade machines were actually made on MAME machines. The issue is that Mitchell claimed the scores were recorded on the former while his naysayers have provided evidence to the fact that they were actually recorded on the latter. Following their own independent investigation, Twin Galaxies has determined that Mitchell's scores were knowingly reported inaccurately. They don't mess around when it comes to integrity, so they not only ousted the scores they were able to verify were incorrectly reported, but went ahead and wiped Mitchell from the boards entirely, saying he is effectively banned.
In Mitchell's brief statement, he disagrees entirely. Mitchell explains in his response that a professional due diligence is being put forth to investigate "things that happened as far as 35 years ago." Mitchell goes on to state that the findings of this investigation will be provided to prove his results were given professionally and according to the rules. He adds that the process will be transparent and that all information ("witnesses, documents, everything") will be made available to the public with nothing withheld.
Obviously, this is a bit of a dark time for classic game records, as this calls into question any old-school scores that were reported in a manner that, by today's standards, might not seem as thorough. Modern games typically record that kind of info themselves, so it would be hard to fake a speedrun in Dark Souls or a high score in Guitar Hero. On top of that, records these days are frequently beat on a livestream, with the player earning the new Tetris benchmark in front of a live internet audience.
We'll certainly be interested in learning what Mitchell's side of the investigation turns up and, if it's convincing, if Twin Galaxies will reverse their decision.
Your Daily Blend of Entertainment News
Staff Writer for CinemaBlend.