E3 Seemingly Confirms Call Of Duty: Black Ops 4 Zombie Mode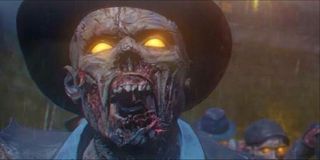 E3 is fast approaching. It will be here starting next month, bringing with it all the glitz and glamour from the interactive entertainment industry. Gamers are expecting lots of big reveals and plenty of surprises. Well, one surprise that you won't have to wait for is the confirmation that the upcoming Call of Duty: Black Ops 4 will have a Zombies mode.
The revelation came from the official E3 Twitter account, where the ESA subsidiary asked gamers what's lurking around the corner for the Black Ops 4 Zombies experience. This is a dead giveaway that the upcoming first-person military shooter will feature the return of the Zombies mode, which had previously not been confirmed by Activision.
We'll likely get our first look at the mode at this year's E3, because the tweet notes that during this year's E3 Coliseum -- a new annual event oftentimes hosted by gaming guru Geoff Keighley -- there will be a retrospective on the Call of Duty Zombies experience over the years. The mode originally gained a lot of fame and recognition during Treyarch's Call of Duty: World at War, where the Zombies mode was included as an extra. Since then the mode has bee so popular that the developers have been adding it into almost each new Call of Duty game released over the years.
Some of the Zombies storylines even tie into one another, with over-arching narratives that last for several games.
For those of you curious about the history of the mode and what the future of the mode will be like, you can pick up a gamer pass to attend the E3 Coliseum for this year's E3 event in Los Angeles, California.
This also likely means that the Call of Duty: Black Ops 4 reveal set to take place later in May likely won't feature the Zombies mode, since it's supposedly confirmed to debut at this year's E3. We can likely expect to see it demonstrated either during Sony's E3 press conference or Microsoft's E3 press conference.
Of course, the big question is what epoch it will be set in and whether or not it will have any ties to the other Zombies maps featured throughout the other Call of Duty games.
Heck, we don't even know anything about Call of Duty: Black Ops 4. Right now there's absolutely no details about the game or the setting or the plot. The only thing that has been rumored is that it may not have a traditional single-player mode, which could be a huge step back from what Activision has been doing. There are rumors floating around that the game may include a Battle Royale mode, though.
So, based on what's been revealed so far, it appears the big Call of Duty: Black Ops 4 reveal will take place on May 17th. Then, a month after that, we'll get details on the Zombies mode that will be included in the upcoming first-person shooter.
Your Daily Blend of Entertainment News
Staff Writer at CinemaBlend.
Your Daily Blend of Entertainment News
Thank you for signing up to CinemaBlend. You will receive a verification email shortly.
There was a problem. Please refresh the page and try again.