Wreck-It Ralph Is Coming To Kingdom Hearts 3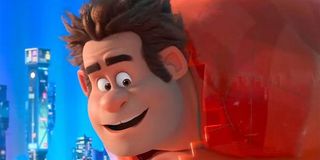 Various outlets from all over the world recently had the opportunity to get their hands on Kingdom Hearts III and, alongside a bunch of gameplay details, we've learned that Wreck-It Ralph will be crashing the party.
The above tweet comes from the official Kingdom Hearts Twitter feed, showing off images pulled from the Kingdom Hearts 3 premier. We see a couple new abilities for Sora and Co. in action, an image of a new Keyblade ability and, yep, Ralph himself toting Sora on his shoulders and, we presume, shouting "I'm gonna wreck it!"
The image of Ralph takes place in the arcade from Toy Story, leading us to wonder if the two storylines will somehow overlap. Ralph lives in a classic arcade cabinet, after all. While it's possible that we'll be visiting the world from Wreck-It Ralph, word on the street is that he's one of Kingdom Hearts III's summons. In previous games, summons weren't typically from playable worlds, which would be a bit of a bummer. We'll just have to wait and see where the final game will be taking us.
Over at Polygon, they've actually shared some details about how Ralph functions in the game. In KHIII, Sora can call on Ralph, who then runs around the level planting bombs before making them all explode. These abilities are called Links in the new game, and Sora will likely have quite the arsenal of classic Disney characters to call upon.
That same post goes on to add a couple new details to help flesh out other new abilities we first heard about for Kingdom Hearts III several years back. A more powerful type of summon in this outing is called an "Attraction" attack, which calls forth a ride from Disney's theme parks. There's a train based on Thunder Mountain, for instance, and some insanely fast-moving teacups from the Mad Tea Party ride.
A collection of new Keyblades was also on display, with players able to freely swap between three weapons on the fly in Kingdom Hearts III. The demo included Keyblades themed after Monsters, Inc., Tangled and Toy Story, all worlds we've previously seen will be available in the game.
We'd put good money on this demo making an appearance at E3 in Los Angeles next month, but nothing official has been shared by Square Enix on that particular count. We're also hopeful that some additional worlds will be announced at that time and, you know, maybe a release date. We'd love to see something from Frozen, Moana and other recent Disney hits. We've also got our fingers crossed for some less likely Disney properties making an appearance, such as Marvel and Star Wars. Also, will there be any sort of Final Fantasy ties in Kingdom Hearts III? We'll just have to wait and see.
Your Daily Blend of Entertainment News
Staff Writer for CinemaBlend.