PUBG Has Sued Fortnite's Epic Games For Copyright Infringement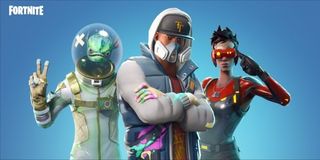 (Image credit: Epic Games)
Bluehole Studio subsidiary, PUBG Corporation, has followed through with a lawsuit against Epic Games. PUBG Corporation is the maker of PlayerUnknown's Battlegrounds, while Epic Games is the maker of Fortnite. The former is suing the latter for copyright infringement.
Bloomberg is reporting that PUBG Corporation filed a lawsuit against the South Korean arm of Epic Games, claiming that Fortnite infringes upon PlayerUnknown's Battlegrounds due to the similarities in both games having a Battle Royale mode.
PUBG Corporation told Bloomberg it's about protecting its copyright. Details on exactly where the breach of copyright takes place weren't divulged in the article, but both games are third-person shooters running on the Unreal Engine 4. In fact, Epic Games owns the Unreal Engine and helped PUBG Corporation optimize PlayerUnknown's Battlegrounds.
PUBG Corporation's title launched last year in March into Steam's Early Access. It instantly became a huge hit and to date has moved over 40 million copies. Popularity on PlayerUnknown's Battlegrounds has waned over the last year, however. As pointed out by the Bloomberg article, the game peaked at around 3.3 million active users but now has less than half than that at present.
Fortnite, meanwhile, has been in development since 2011. The game had a series of beta tests throughout the years, but it didn't officially launch until the summer of 2017, first as a co-op survival game where players built up forts against zombies. But then, by September of 2017, Epic introduced a free-to-play Battle Royale mode for PC and home console gamers. It peaked at more than 3.4 million concurrent users and dominates Twitch streams.
PUBG Corporation, at the time, was displeased with Epic implementing a Battle Royale mode into Fortnite, feeling as if Epic had helped them optimize the Unreal Engine 4 for PlayerUnknown's Battlegrounds just so Epic could then apply those optimizations for Fortnite's Battle Royale mode.
While PUBG Corporation alleges that Epic Games is infringing on its copyright, the reality is that the base of the Unreal Engine 4 was built up from Fortnite for as far back as 2011, since it was the first Unreal Engine 4-powered game. So, if the company plans on arguing about infringing on codebase, there's a strong likelihood that PlayerUnknown's Battlegrounds is possibly using more of Fortnite's design than Fortnite is using whatever Epic helped PUBG Corporation optimize for PlayerUnknown's Battlegrounds.
There's also the issue that many gamers brought up about the actual Battle Royale mode itself being based on Kinji Fukasaku's movie of the same name from back in 2000. Various other games since then have had alterations and modifications based around the film's concept, including elimination and last man standing modes, both of which appeared 14 years ago in Epic Games' own Unreal Tournament 2004.
Also ahead of PlayerUnknown's Battlegrounds' release, there were games like H1Z1, The Culling and Last Man Standing that also had their own form of a Battle Royale mode. So, in terms of trying to argue that PlayerUnknown's Battlegrounds was first to come up with the mode, there are a handful of other games in recent times that could argue that PUBG Corporation's title lifted ideas from their project.
This will be an interesting lawsuit, no doubt, because suing over the implementation of a game mode could have drastic ramifications across the video game landscape if PUBG Corporation does win.
Your Daily Blend of Entertainment News
Staff Writer at CinemaBlend.