The New Star Citizen Add-On Pack Costs Over $27,000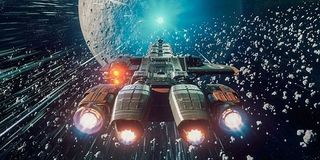 If you've got an insane amount of cash burning a hole in your pocket, the folks over at Cloud Imperium Games are offering some of the most expensive DLC in video game history. The latest ship pack for Star Citizen will set you back nearly $30,000.
No, that's not a typo. As it turns out, Star Citizen accommodates gamers with, shall we say, expensive taste, giving them plenty of ways to spend their money on a title that hasn't even officially launched yet.
Even wilder is the fact that, if you want to see what is included in the $27,000 Legatus Pack, you need to have already spent $1,000 within the game. And yes, that's real-world money we're talking about.
Believe it or not, a rather large number of people have met that prerequisite. Star Citizen began its crowdfunding escapades way back in 2012 and, since then, the game-in-progress has raised more than $200 million. On top of people spending a large sum of money just to get the game off of the ground, the game already offers oodles of premium content including ships, skins, in-game items and the like.
So, the question is, what are you getting for that $27,000? For starters, that fee includes 117 crafts, perfect for getting your own fleet up and running. What's crazy, though, is the fact that you're still not getting every ship in the game at that cost, as some have been made available through other means. The Legatus Pack also includes 163 in-game items such as skins, upgrades and even decorative posters you use within the game.
As an added bonus, all of the ships in the pack include lifetime insurance, so you don't need to fret if one of your digital crafts goes boom. Yes, that's right, you can buy insurance for your ships in Star Citizen. If you don't and tragedy occurs, you're basically out of luck and minus a ship. Similar to real-world insurance, you can typically purchase coverage for your ships in one-, three- and six-month intervals. If your ship is covered, you'll basically get an identical rig in the event of theft or complete annihilation. With lifetime coverage, you never have to worry about the safety of your ships. So at least a portion of that $27,000 is going toward peace of mind.
If you're dead-set on learning what is included in this extravagant DLC for Star Citizen, players have compiled a list in the game's forum. If you scroll down just a few comments, someone actually lists all of the ships and items included. Not super helpful if you're not already familiar with the game but, if that's the case, you probably aren't too worried about DLC that's gated by a $1,000 velvet rope.
Your Daily Blend of Entertainment News
Staff Writer for CinemaBlend.